Going on a family trip to Disney with a toddler can be quite challenging. But don't worry, we have good news for you!
Choosing the right toddler carrier can make your journey easier. In this article, you'll find comprehensive tips and advice on how to pick the perfect carrier for your little one's Disney trip.
Choosing the right toddler carrier for a trip to Disney can make the whole experience much more enjoyable and stress-free. With the availability of so many different toddler carrier models, it can be difficult to find one that's suitable for your needs. It's important to take into consideration factors such as comfort, versatility, weight capacity, and durability.
In this guide, we will provide helpful tips for choosing the right toddler carrier for your trip to Disney so that you can enjoy a fun and stress-free day!
Explanation of toddler carriers
When it comes to taking toddlers on a trip, you can't go wrong with a carrier. They are comfortable for both the parent and the child, providing support and freedom of movement. Knowing which type of carrier is best can make all the difference in terms of having an enjoyable time at Disney.
There are three main types of toddler carriers: slings, wraps, and framed carriers. Each one has its own unique benefits that help ensure your little one is safe and secure when you're out exploring Disney World.
Slings are one of the most popular types of toddler carriers as they are incredibly convenient and portable. They consist of a single piece of material that creates a pouch around your child, allowing them to rest their head against your chest while snuggling in close to you while walking around the park. Slings come in many different sizes and styles; some feature a shoulder strap for extra support or adjustable straps for growth spurts so that your child can stay comfortable even during long days at Disney World.
Wrap-style carriers offer more support than slings since they usually feature two straps that wrap all around your body to keep your little one close while providing a secure fit throughout any activity. Some wraps even have adjustable buckles so you can easily tighten or loosen them based on what activities your little one wants to join in on throughout the day — such as riding on attractions! As an added bonus, this style allows for several different carrying positions for both parent and child comfort.
Framed carriers offer another option for those who want extra support when taking their toddler with them during exploring Disney World. This style includes frames made from either metal or plastic attached to either standard fit harnesses or adjustable straps depending on if parents need additional spacing between themselves and their toddlers depending on what types of attractions they're planning on going on together throughout the day. Framed babycarriers also feature larger storage compartments underneath where people may store additional items like snacks, clothes changes —and anything else they might need while spending time in one—of—the—most magical places on Earth!
Importance of choosing the right carrier for a trip to Disney
A trip to Disney can be a magical experience, but it is also likely to involve a lot of walking. To ensure your little one is safe and comfortable during your Disney adventure, it is important to select the right baby carrier. A well-fitted carrier becomes an extension of you and how you move, making it easier on both you and your child.
When deciding which baby carrier to use for your trip, here are some tips that may help:
Safety is priority – Secure straps with shoulder buckles and waist belts must be in place so your child can nestle safely against you while leaving no area exposed.

Comfort – An adjustable seat width helps the ergonomics of wearing an infant or toddler for hours at a time. Look for contoured fabric that provides back support without adding bulk or weight.

Durability – Choose a carrier with sturdy construction to handle the strain of long-distance wear with stability for both baby and parent. Quality materials should provide lasting comfort as well as fade resistance when exposed to sun or water.

Versatility – Opt for a lightweight carrier that converts into a backpack style so that either parent can take turns wearing the baby while discovering all of the wonderful experiences Disney has to offer.
Overview of the article
This article will provide an overview of the different types of toddler carriers available on the market and how to choose the right one for a trip to Disney. We will discuss the different options such as slings, backpacks, waist belts, soft structure carriers and hip seats, as well as their pros and cons.
Additionally, we will explain what kind of carriers are best suited for specific situations such as hot or cold weather and long #walks or rides on attractions. The aim with all this advice is to help you make an informed decision that you know is right for your family.
Lastly, this guide includes tips on basic safety when it comes to carrying your toddler in any type of carrier.
Features to Consider
As you search for the right carrier for your toddler, be sure to consider the following important features:
Comfort: A toddler carrier must provide ample support and cushioning. Look for a design with a wide and contoured waist belt, an adjustable height setting, padded shoulder straps, and energy-absorbing foam inserts. These features ensure that you will remain comfortable while carrying your little one during an extended walk through the park.
Safety: Your top priority should always be the safety of your child when selecting any type of baby product. When considering a carrier for your toddler at Disney, make sure that it complies with ASTM standards for Safety and is CPSIA certified to meet mandatory safety guidelines.
Durability: Choose material able to take on wear-and-tear over time and remain robust enough to survive in less-than-idyllic conditions such as humidity or sun exposure found at outdoor amusement parks; UV protected nylon is just the ticket!
Weight Capacity: Check out weight capacity limits when investing in a new carrier for an older toddler or young child due to their size and weight difference compared to younger babies. Most products are designed based on a maximum weight of 45 lbs., but some models can accommodate up to 60 lbs., giving them more longevity.
Ease of Use: From buckling toddlers into carriers without distraction, maneuvering around crowds without obstruction, packing away quickly during rides or when lunch needs served fast – ease of use matters! Look for simple buckles with latch points that are easy to grasp and manage; likewise adjustable height settings will help you switch between ergonomic positions quickly in different scenarios.
Comfort
Comfort is of the utmost importance when it comes to selecting the right toddler carrier for a trip to the Disney parks. If your baby or toddler isn't comfortable, then neither will you – and that means everyone's vacation won't be as enjoyable or magical.
Choose a carrier that has adjustable straps to ensure proper fit and one with breathable, comfortable fabric that won't irritate baby's skin. Additionally, look for head support and a wide base of support so your baby's neck and spine are properly supported during long days at the park.
Lastly, make sure you take plenty of breaks during your day so you can check on baby's comfort level throughout your trip.
Durability and Safety
Toddler carriers made with sturdy fabrics and lightweight yet durable frames can be a great value and last through many trips. When choosing a toddler carrier, consider the weight limit of the frame as well as the integrity of the sling fabric. If possible, inspect the structure in person or request additional photos from sellers when shopping online. A few key items to look for in order to evaluate durability and safety include:
– Frame Material: Look for frames made from heavy-duty aluminum or steel frames, which are more durable than plastic or wood models. Also check for any mounting instructions to ensue easy and safe setup upon arrival at Disney World.
– Sling Fabric: Most sling fabrics used for toddler carriers will be made from nylon, polyester, or a combination of both. It's important that whatever fabric you choose is comfortable, breathable and highly supportive – which will help ensure your child's safety over long distances. Look for slings that are padded along their edges to provide added comfort during your travels.
– Straps: Adjustable straps help you customize the position of your little one while they nap or explore at Disney World! Straps also allow you to get them out quickly during rush hour traffic on crowded rides while still keeping them secure within your carrier frame. Look for adjustable straps along with belts that keep buckles in place when moving around tight spaces – this will add even more safety benefits throughout your adventure!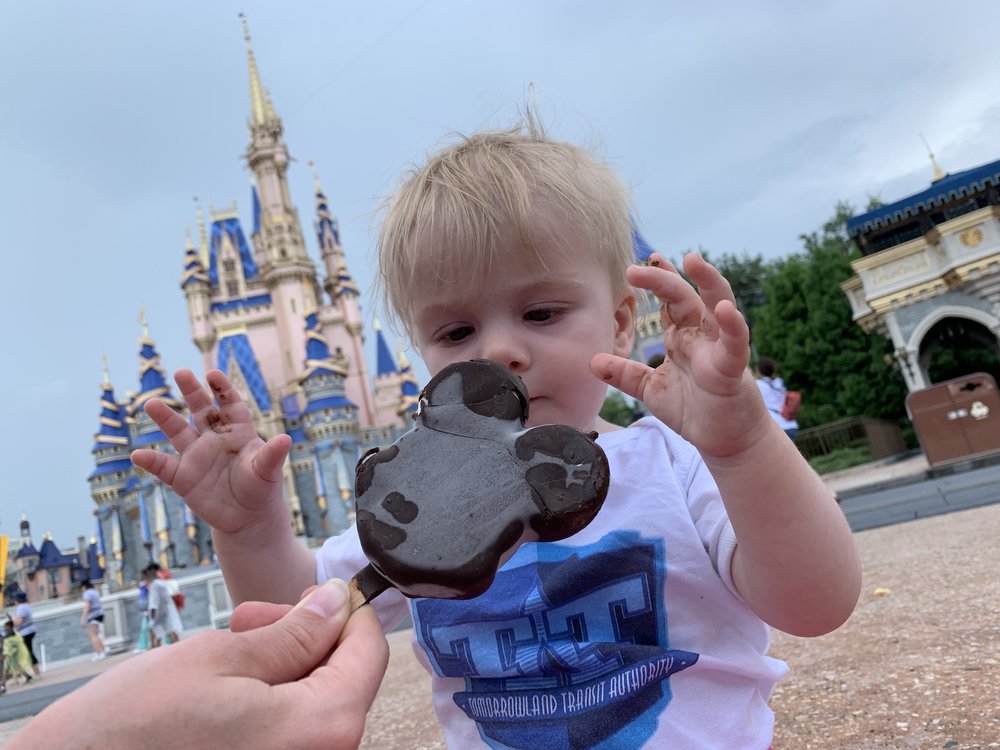 Convenience and Portability
When you're preparing for a visit at Disney, the last thing you want to worry about is an uncomfortable or unwieldy carrier. Fortunately, there are many options for finding a lightweight, easy-to-use carrier that can fit all of your family's needs.
First, consider the type of terrain you may be traveling on. Soft, grassy paths may require little more than a wrap style baby carrier with soft fabric and lightweight straps that easily adjust while walking or standing. For rougher surfaces like cement or asphalt paths, however, you'll need something sturdier such as a frame or backpack-style carrier with stronger straps and support panels.
Second, it is important to think about how much portability you need throughout your day in the park. Some carriers have attachable wheels which provide hands-free portability when pushing stroller mode is not necessary or feasible. Others also have pockets for storage of small items such as snacks and sippy cups which help to keep your hands free for other tasks such as taking pictures!
Finally, consider how adaptable it must be in terms of weight-bearing capabilities and user comfort levels – some carriers offer adjustable leg support straps and lumbar support padding – ensuring comfortable journeys no matter how long you're staying out! When shopping for the right toddler carrier for Disney World trips, look for features like waist straps that can be adjusted according to the size of your child's waistline; padded shoulder straps; breathable inner linings; leg openings up to 12 inches across; front pocket storage; and adjustable frames made from lightweight aluminum alloy materials so they won't add too much weight when carrying around multiple toddlers throughout your visit!
Factors to Consider When Choosing a Carrier for Disney
Choosing the right toddler carrier for a trip to Disney World can help ensure that your child has a comfortable, fun and safe experience. When selecting a carrier, it is important to consider factors such as kind of carrier, ease of use, weight and size of the item, weight limits, comfort features and price.
Kind of Carrier When it comes to wearing your toddler around at Disney World, you have several options. Baby slings or wraps can be used from newborn until your toddler can fully support his or her head. Soft-structured carriers work best for toddlers who are over four months old and weigh about 13 lbs (5.8 kg). These carriers offer support for the head and neck with adjustable straps for comfort. Frame packs are great for older kids who want to be carried around all day but want the freedom to stand up independently when they need to take a break.
Ease of Use It's important to make sure that whatever style of carry you choose is easy to use so that you won't have any trouble using it while out at Disney World. Look for features such as adjustable straps, zippers or special snaps that make taking on and off your child easy and secure.
Weight & Size Considerations The type of carrier will determine how heavy or bulky it is when packed into luggage or carrying onto planes or transportation at Disney World itself. Look for lightweight carriers with enough compartments where you can store snacks or items such as diapers and wipes so that you don't have to bring extra items along on the trip.
Comfort Features When choosing a carrier for your toddler at Disney World look for padding in all the right places so your little one is comfortable when carrying them around all day long! Also make sure there are ample storage pockets where you can store items such as Keys, phones or wallets securely while navigating through one of the parks.
Price Finally consider how much you are willing spend before purchasing a carrier because certain styles may be better suited depending on what needs must be met during this trip! Prices range from low cost frame packs up through higher priced baby-bjorn type models with adjustable harnesses and other built-in features – so shop around before purchasing!
Weather conditions
When selecting the appropriate toddler carrier for a trip to Disney, it is essential for parents to take into account their destination's weather conditions. Knowing the climate of the anticipated destination is of utmost importance, as it is an important factor when making a decision about what type of carrier or clothing should be used for babies and toddlers alike.
In addition, as temperatures can fluctuate during certain times of day or throughout different seasons at Disney World, multiple layers may be necessary for parents and their little ones. For example – light-weight trousers in summer days can provide additional protection from sun exposure while warmer trousers in winter months may be needed to keep toddlers comfortable and warm.
Length of trip
When choosing the right toddler carrier for a Disney trip, it is important to consider the length of the trip. For longer trips, you may need a more robust carrier with added storage space and cushioning for your little one. During shorter trips, a simpler carrier such as a wrap or front-facing sling may be all that you need.
If you are planning on touring the park all day, it is best to look for a sturdy option with comfortable straps and thick padding on the back panel to provide your child with extra support during extended periods of walking. In addition, ensure that whatever you choose has an adjustable frame so that you can adjust it as your child grows.
Age and weight of child
When selecting a toddler carrier, parents should first consider the age and weight of their child. While many models indicate they can fit a child of any age, these carriers may not be as comfortable as more appropriate models for different ages.
For example, when buying a toddler carrier for an infant or young baby, selecting one with a newborn insert is ideal for extra support and comfort of the baby's neck and head. Additionally, understanding the current physical size and weight of your child helps you find a carrier that will be supportive.
Many carriers provide restrictions on weight limits; however, you can usually spot check the activity level of your child to help determine if they are within their respective size and weight limit. Remember that most toddlers max out at 35 pounds to be safely carried; therefore, selection of correct category is essential in keeping them safe while carrying them around Disney World.
Type of Disney activities planned
Depending on the type of Disney activities you and your toddler are planning, you may want to consider certain types of carriers. For rides, an ergonomic-type carrier with a rounded buckle system is your best choice as it will help keep your toddler secure and safe.
If you plan to do a lot of walking, choose one that helps distribute the weight evenly – such as a structured backpack. A light weight framed sling or wrap can also be used if neither of you is too tired at the end of the day.
Lastly, if you plan to be in and out of attractions frequently, opt for one that is easy to remove and re-adjust when necessary.
Conclusion
The choice of the right toddler carrier for your trip to Disney depends on your needs and preferences. However, by considering important factors such as comfort and safety, as well as compatibility with any Disney transportation, you can ensure that your little one will enjoy the ride.
Choosing a carrier that suits your individual needs will make the trip much more enjoyable for both you and your toddlers. Whether it's a backpack-style carrier or a front-facing seat, there is an option available to meet most families' needs when planning an adventure at Disney World. With the right selection, it can be easy to provide your little ones with a comfortable, safe and secure ride that they'll love.
FAQ'S
Can you use a baby carrier at Disney?
Yes, baby carriers are allowed and can be a convenient way to transport infants and toddlers around the park.
Do you need a stroller or carrier at Disney?
While not required, a stroller or carrier can be helpful for parents with young children who may need breaks from walking or naps during the day.
Can I bring baby carrier to Disneyland?
Yes, baby carriers are allowed and can be a convenient way to transport infants and toddlers around the park.
Which Disney park is best for 2 year old?
Magic Kingdom at Walt Disney World and Disneyland Park at Disneyland Resort are both popular choices for families with young children, as they have many rides and attractions suitable for toddlers.
What type of stroller is best for Disney?
A lightweight and easy-to-fold stroller with storage space is ideal for navigating the crowds and getting on and off attractions quickly. Consider choosing a stroller with a canopy for sun protection.
Is Disney strict about strollers?
Yes, Disney has recently updated their stroller policy and now has size restrictions on strollers allowed in the park. Oversized strollers and wagons are not permitted.
What strollers are not allowed at Disney?
Wagons, strollers larger than 31 inches wide and 52 inches long, and stroller wagons are not permitted inside Disney parks.
Can kids take wagon or stroller to Disney?
Strollers are allowed at Disney, but wagons are not permitted inside the park.
What age do kids not need a stroller at Disney?
This can vary depending on the child, but generally, children around 3-5 years old may be able to handle walking around the park without a stroller.
How do you ride rides at Disney with a baby?
For attractions without height restrictions, babies and toddlers can ride on their parent's lap or be secured in a carrier. For attractions with height restrictions, a rider switch pass can be used to allow one parent to wait with the child while the other rides, and then switch places without waiting in line again.
See Also-