Are you worried about your toddler's safety when playing in water? Worry no more! Investing in a pair of water shoes can help keep their feet safe and secure.
From providing protection from sharp objects to preventing slips, there are numerous benefits of choosing the right pair of shoes for your little one. Read on to learn how you can keep your toddler safe with the perfect water shoes.
When considering what to buy for your toddler, water shoes are essential for a number of reasons. Specifically designed to protect young feet from sharp objects, sunburn and hot sand in the water or on land, water shoes can help keep your toddler safe during outdoor activities. With proper care and maintenance, water shoes can last through several seasons and become an important part of your little one's wardrobe.
This comprehensive guide will cover the benefits of choosing water shoes for your toddler; materials and designs; how to size and fit water shoes; how to take care of them; brands we recommend; plus some tips on choosing the right style and price range. By the end of this guide, you should know exactly what type of shoe is best suited for toddler development, how to find quality construction at great prices and what features are important when making a final purchasing decision.
Explanation of water shoes for toddlers
Water shoes for toddlers are a must-have item for trips to the beach, pool, or water park. They are designed to provide traction and grip on slick surfaces of various aquatic activities.
Water shoes for toddlers protect their feet from cuts and scrapes that can occur when walking in the sand. In addition, they are lightweight and soft enough so that their feet don't become too hot during outdoor summer activities.
Finally, water shoes help protect against sunburns and prolonged exposure to wet surfaces as well as providing grip even on slippery surfaces such as rocks or a boat deck. All of these factors make water shoes an essential part of safety gear for little ones in and around the water.
Importance of wearing water shoes for toddlers
Water shoes can provide toddlers who love to splash around in water with the desired protection and comfort. For instance, when your little one is playing outside in grassy puddles, water shoes offer a great deal of protection from glass shards and other sharp materials that may be hidden in the grass.
Moreover, depending on the type of sand and shoreline you visit, regular shoes can provide resistance that can make walking down to the shoreline difficult for your toddler. Water shoes provide lightweight cushioning that makes it easy for little feet to walk without straining their ankles or bunching up their toes.
Additionally, many beaches have require visitors to wear some kind of protective footwear while they are playing near the seashore; if you are visiting one such beach with your toddler then water shoes are a must-have item as they will keep your toddler's feet away from any jagged rocks or shells that may be found along the beach line.
Furthermore, when a toddler plays in any kind of body of water, there is always a chance that bacteria or small creatures may enter through his or her skin via cuts or open wounds; by wearing waterproof shoes toddlers will be protected from these potential sources of infection and harm.
Finally, the comfort provided by these types of specially designed footwear allows children to run around without worrying about slipping over sand or grass; this means more time for joyful activities instead of worrying about potential injuries from slippery surfaces!
Types of Water Shoes for Toddlers
Water shoes for toddlers come in a variety of styles and materials. Depending on the age and activity level of the toddler, this decision should be based on their individual needs. For example, if the toddler is just beginning to explore in the pool or at the beach, then simple water socks with traction may provide ample protection and grip. These usually have a lightweight knit material with enhanced grip on the bottom.
However, if your toddler is an aggressive explorer who tends to wander into rocks or deeper areas in the pool or beach, then a more durable water shoe may be necessary. Typically constructed with a lighter weight piece of rubber or full neoprene material they fit like sneakers and often offer additional features such as pull loops or bungee cords for easy on/off access.
For those who are looking for added features, water sandals are ideal for those hot summer days when extra ventilation is preferred over coverage. Many sandals also have higher cut ankle support which can provide much needed stability when exploring rougher surfaces along trails and beaches further from town centers and those who are less crowded coastlines.
Closed-toe water shoes
Closed-toe water shoes are a great choice for protecting your child's feet. These shoes should provide enough protection to keep your toddler's feet safe from sharp rocks, shell fragments, broken glass and other objects that can be found on the beach or at the pool. As a bonus, closed-toe water shoes can help to keep sand out of a child's feet and offer more protection from the hot pavement or rocky shoreline.
If purchasing closed-toe water shoes for your toddler, there are several features you should look out for:
Look for cushioned soles with good grip and slip resistance – these will help to protect your little one's feet while playing in and around the water.

Consider options that are lightweight and easy to put on. The last thing you want is an uncooperative toddler who refuses to wear them!

Breathable uppers will help to keep their feet cool in hot weather; some also have mesh inserts for increased airflow/ventilation.

Look for an adjustable toggle closure – these allow you to tighten or loosen the shoe without having to tie laces, making them easier to put on/take off quickly if needed.

For toddlers who refuse any type of shoe, look into water socks – they look like regular socks but they provide most of the same protection as closed toe water shoes with added flexibility!
Open-toe water shoes
Open-toe water shoes are designed to provide protection and traction while still being breathable, lightweight, and easy to put on.
Open-toe water shoes have small perforations around the toe area as well as large cut-outs in the arch of the shoe for speedy drying time and maximum air flow when wet. These types of shoes are best for toddlers who love playing outside in puddles or whose feet tend to overheat from having them covered all the time.
It's important to know that open-toed water shoes do not provide the same level of protection from sharp objects that closed-toe options do, so it is best to use them on beaches and smooth surfaces like tile or rubber mats. Additionally, sand can easily accumulate within open-toed options so be sure to empty out any after each use.
Slip-on water shoes
If you're looking for an easier option for taking your toddler in the water, slip-on water shoes for toddlers may be just the thing. They're super easy to put on and take off and will give your little one's feet some extra grip in slippery conditions.
Slip-on shoes are also good if you don't want to change your toddler's shoes every time you head to the beach or pool. They also come in a range of different colors and styles, making them a fashionable choice while still providing safety features.
Needless to say, slip-on water shoes are perfect if your toddler isn't too keen on wearing conventional shoe styles. They offer comfort and flexibility by stretching over the foot rather than gripping it firmly like more traditional shoes do. And given their lightweight design, they won't make your little one too hot or uncomfortable when playing in the sun or water.
Just like other types of water shoe, it is important that slip-on designs provide some grip on wet surfaces so that kids don't slip over or have any difficulty walking on slippery terrains such as boats, docks, beaches or pool decks. Look for those designs that offer reinforced rubber soles for improved grip and cushioning – both of which will help reduce sliding incidents in wet conditions.
Benefits of Water Shoes for Toddlers
Water shoes offer a great deal of protection and comfort for toddlers while they are in or around water. It is important to be mindful when building up a child's wardrobe of items they may need while spending time outdoors. Many times, the choice between open-toe sandals and full-coverage sneakers can be complicated and many parents spend considerable time researching which is the best option to go with when it comes to protecting their little ones' feet. Water shoes are not only a stylish solution but have many more benefits for toddlers engaging in water activities:
Comfort: Water shoes provide well-cushioned footbeds that provide lasting support during extended activities in the water, making them more comfortable than traditional land-based styles. Additionally, their rubber soles make it easier for toddlers to walk along slippery surfaces which can help prevent accidents.

Protection: The material most water shoes are constructed from provides excellent protection from sharp objects, rocky surfaces or the scratchy feel of rough sand that might cause discomfort or injury to the feet of young children.

Durability: Quality materials used in crafting toddler water shoes combined with quick draining designs that allow dirt, sand and other debris to easily escape provide increased durability over non-water friendly options as regular sneakers tend to wear down much faster when exposed to constantly wet environments such as around pools or at the beach.

Easy Cleaning: An important feature of any item associated with toddlers and young children is effortless cleaning and maintenance, as this decreases frustration on the part of both parent and child significantly! Fortunately enough with toddler water shoes, all you need is a bit of soap or detergent and some fresh lukewarm water – simply rinse off your children's gear once back from your outing and drying would then only take minutes under direct heat from a heater!
Protection from sharp objects
Water shoes provide an added layer of protection for toddles who are just starting to explore and learn the world around them. By using water shoes, you can help ensure that your little explorer is safe from sharp objects like rocks, shells, and coral that can be hazardous to their delicate feet.
Water shoes also provide grip on wet surfaces and cushioning of the feet so they won't slip or stub a toe. They're especially key in helping toddlers stay safe while playing in water and constructing sand castles at the beach.
In addition, some water shoes come with SPF (sun protection factor) which helps protect little feet from sunburns when playing outside.
Non-slip soles for safety
Non-slip soles are essential for safety when your little one is running around near water or other slippery surfaces. Look for soles that feature grip patterns and textured materials that help to prevent slipping, yet still allow for the range of movement required for growth and development.
These shoes have the added advantage of providing extra cushioning, making them comfortable to wear all day long. However, support is also key when it comes to water shoes for toddlers, so it's important to make sure the shoe has a secure fit that won't restrict your child's toes from wiggling and exploring.
Comfort and support for growing feet
When it comes to toddlers and water shoes, comfort and support should be taken into consideration. Toddlers can easily slip and slide on smooth surfaces, so adding some cushioning, like neoprene in the soles of shoes, helps keep them comfortable and provides support – particularly when standing in water. Offer an extra snug fit with velcro straps and back closure for extra protection.
While selecting the right shoe size will ensure feet stay safe and secure in their shoes, don't forget to check out tailoring capabilities such as adjustable lacing or removable liners which can help accommodate growing feet. To maximize comfort, be sure to also check padding around the ankle or heel collar as well as arch support or sole construction that adjusts to your toddler's foot shape.
Choosing the Right Water Shoes for Toddlers
When choosing water shoes for your toddler, there are a few factors you should consider. First, look for shoes that provide the best protection from accidental slips and falls on wet surfaces. Shoes with non-slip soles that grip the ground are ideal. Also, be sure to find shoes with a secure fit so they stay snug on your child's feet during play time and swimming.
When buying water proof or quick dry shoes, be sure to choose styles with breathable material to allow feet to breathe and stay comfortable during time spent in the pool or at the beach. Lastly, look for something fun and fashionable that matches their personality while also protecting them from harm,. The right pair of water shoes can provide stylish protection while ensuring your child is safe when they take a dip!
Correct fit
To ensure that the water shoes fit your toddler correctly and will provide the necessary support for protection in the water, it is important to choose a style that fits properly. Shoes should be snug but not too tight, with enough room for the toes to move freely. The upper part of the shoe should not pinch or rub against the back of your child's foot.
Water shoes should also offer plenty of arch support so that your toddler's feet don't get too sore after walking in them. If you are purchasing shoes online, it can be helpful to check customer reviews on fit and sizing to ensure you purchase a pair that will give your toddler's feet the support they need while they play in the pool or ocean.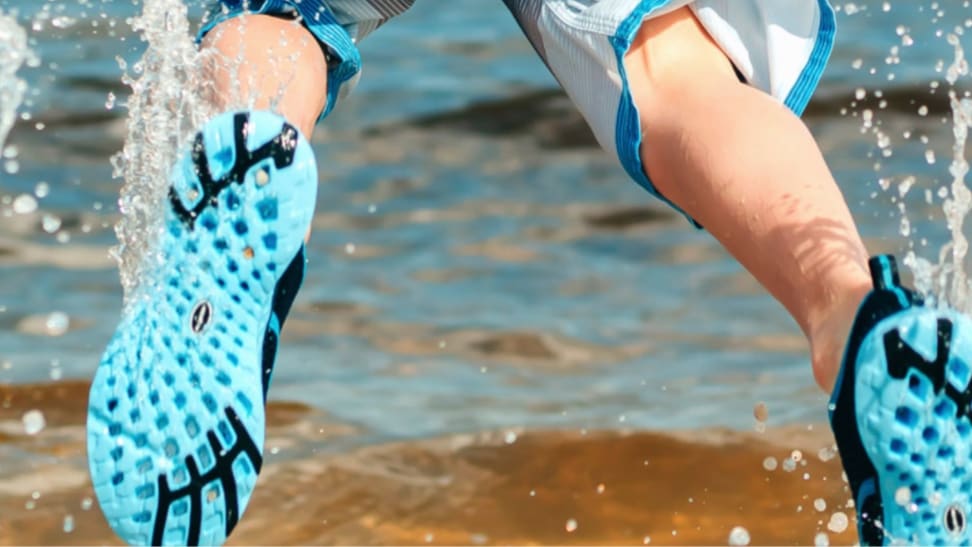 Conclusion
Keeping your toddler's feet safe when they're in and around water is very important. You want to make sure their feet are protected against sharp objects, rough surfaces and slippery spots. Wearing a pair of well-fitting, lightweight water shoes is the perfect way to protect your toddler's feet and keep them comfortable in the water.
When you choose a pair of water shoes for your little one, consider their fit, style and design features. Make sure to keep a few key points in mind—some brands may offer unique features like anti-slip soles or drainage holes that your child may need for their specific environment. Don't forget to double check the sizing chart directly from the manufacturer; it should indicate what size your child would need based on the measurements you get from their foot length and width.
Your toddler's first pair of shoes should be designed with care; comfort, style and practicality should be taken into account before settling on a pair that's just right!
FAQ'S
Do toddlers need water shoes?
It depends on the activity they will engage in.
Why are water shoes important?
Water shoes provide protection, grip, and comfort when walking on wet surfaces or participating in water activities.
Why is it important for toddlers to wear shoes?
Toddlers' feet are still developing, and shoes can provide support, protection, and help with balance and stability.
What are the benefits of using shoes?
Shoes can provide support, protection, and cushioning for the feet, as well as help with balance and stability.
What is the purpose of wearing shoes?
The purpose of wearing shoes is to protect the feet, provide support and cushioning, and improve balance and stability.
Are water shoes necessary?
It depends on the activity and the surface being walked on.
How long should toddlers wear shoes?
Toddlers should wear shoes when walking or playing outside.
Should babies wear water shoes?
Babies who are crawling or walking on wet surfaces should wear water shoes for protection and grip.
What are the benefits of kids shoes?
Kids shoes provide support, protection, and comfort for growing feet, and can improve balance and stability.
What kind of shoes should a toddler wear?
Toddlers should wear shoes that fit well, provide support and protection, and are appropriate for the activity and environment.
See Also-