You want your toddler to stay warm and safe during winter, yet feel comfortable. What kind of boots should you get for them?
Read through this article to find the ultimate guide to choosing the right winter boots for your toddler. Whether it be fit, warmth or style, we've got you covered!
Welcome to our complete guide to choosing the right winter boots for toddlers. Winter provides a unique set of challenges when it comes to dressing babies and toddlers and shoes are no exception! Keeping their feet warm is essential, not just for comfort but to ensure their young bodies stay healthy in the cold weather.
On top of that, kids are more inclined to be active outdoors in the wintertime, being entertained by all the snow and ice they come across. This makes it even more important to pick a shoe that can keep up with them throughout their outdoor escapades, while at the same time protecting their feet from the elements.
This guide will cover all you need to know about finding suitable winter footwear for your little one so that you can keep their toes cozy during cold weather adventures!
Explanation of the importance of choosing the right winter boots for toddlers
It's important to choose the right pair of winter boots for your toddler, as this will protect their feet from cold temperatures and wet conditions. As toddlers grow, their feet expand quickly, so it's important to ensure that you buy a pair of boots that are their exact size. It is also essential to choose the right materials for your toddler's winter boots in order for them to stay warm and dry throughout the cold season and protect them against the elements, such as snow and rain.
When shopping for winter boots for toddlers, look for materials that can keep feet dry and warm such as wool linings or fleece insoles. And be sure to go with a waterproof material like rubber or synthetic leather. Waterproof materials are essential when it comes to keeping water out of their boots during wet weather–especially when they tend to play in puddles! Additionally, a good pair of winter boots should have good traction on the sole and contoured footbeds so they can move comfortably without slipping or sliding over icy ground. Remember that the thicker, better insulated the boot is, the longer your toddler will stay warm in cold weather conditions.
Brief overview of the factors to consider when choosing winter boots for toddlers
Winter boots for toddlers provide a combination of warmth, comfort and durability that will help your little one stay safe and warm in cold weather. It's important to consider the type of climate you are living in, as well as the terrains your toddler will likely be travelling on. In terms of materials, these tend to range from leather to corduroy or fur-lined versions. You will also want to consider your toddler's comfort and fit level when making your choice. Here are some things to think about when choosing winter boots for toddlers:
Climate: Different climates require different types of boots. For wet or slippery conditions, opt for waterproof boots with grip soles. For extreme cold conditions, insulated wider-cut winter boots with a warm liner like UGG® are ideal (keep in mind that UGG® styles do not perform well at temperatures below-15°C).
Terrains: Depending on where you and your toddler will be doing most of their exploring, certain sole types may be more suitable than others for providing sufficient grip indoors or outdoors. For instance, rubber soles provide better traction on indoor tile floors than leather soles would. On the other hand, if playing in the snow is part of your winter activities plan then insulated neoprene styles with non-skid outsoles are a much better choice than running shoes or ballet flats which can become quickly saturated by melting snow and ice.
Materials: While snowy days call for thick insulation and waterproofing materials like rubber or neoprene uppers, drier days may warrant lighter material boots lined with faux fur only around the toes area for extra warmth without heavy bulkiness weighing down toddlers' feet (for example boots by pediped® feature allover faux fur liners). No matter what material you choose make sure it is breathable enough so as not to inhibit sweating which can lead to blisters and skin irritations on little feet often inadequately covered by socks alone during colder months.
Fit & Comfort: Snowy weather usually calls upon toddlers to spend more time indoors where they feel tempted (or obliged) to wear their favorite pair of winter shoes until their toes hurt! Make sure maximum comfort is provided at all times by selecting footwear designed specifically with growing feet in mind so that adequate wiggle room remains available once it is worn throughout its life cycle — allows growth spurt free!
Factors to Consider When Choosing Winter Boots for Toddlers
When buying winter boots for toddlers, there are several factors you'll want to consider. Most importantly, you need to make sure the boots fit correctly as a poor fit can be uncomfortable and unsafe for kids. Here are some other components that come into play:
Material: When shopping for winter boots, look for styles made from waterproof fabric or materials that are lined with an effective thermal barrier such as thinsulate. This will help ensure your child's feet stay warm and dry in wet and snowy weather.
Traction: Especially if your toddler will be playing outside in snow and ice, the bottom of the boots should have adequate traction. Many brands offer special anti-slip soles that provide reliable grip on slick surfaces.
Protection: If there is ice and snow on the ground, your little one will likely encounter all types of debris like sticks, rocks and broken glass while in their winter boots. Look for styles with protective toe guards to help protect tiny feet from harm.
Weather conditions in your area
When selecting the right boots and clothing for your child, it's important to consider the weather conditions they'll face. Winter weather can vary considerably from place to place, with some places experiencing more extreme cold than others. It's important to dress your child appropriately based on their environment, as little ones can get cold quickly and be prone to frost bite or hypothermia if they are not properly protected. Generally speaking, you should look for clothing that is waterproof and highly insulating so that your child is protected from rain and snow as well as staying warm in the winter temperatures.
In areas where snow is present, boots with a waterproof liner are key for protecting little feet from becoming wet or getting frostbitten due to prolonged exposure. Features such as adjustable laces or Velcro closures can help ensure a snug fit which will ensure that cold air doesn't sneak in while they run around outside. Some insulated winter boots also provide extra traction with tread on the soles of the shoes, so you don't have to worry about them slipping on ice or other slick surfaces when out playing. Additionally, depending on where you live it may be necessary to add booties or gaiters over top of boots in order to completely seal out moisture and maximize warmth protection against cold winds and damp winter weather.
The type of activities your toddler will be doing while wearing the boots
Picking out winter boots for toddlers requires a bit of research and consideration. You'll want to take into account the type of activities your toddler will be doing while wearing the boots, such as snow play, sledding, or shoveling. Be sure to choose a pair that's wide enough for your child's feet and provides good ankle support —no matter what activity they're up to. It's also important to find out the insulation rating of the boots, as this will help you decide if they provide enough warmth for your child's unique needs.
In addition to keeping your child's feet warm, you'll want to make sure their winter boots are waterproof — no one wants cold and wet toes! Look for winter boots with water-resistant materials like rubberized leather or vinyl-fabric combinations. Also make sure they have some form of grip on the soles so that they don't slip on icy surfaces or get too muddy when walking outside in wintry weather.
Size and fit of the boots
When it comes to finding the right winter boots for your toddler, size and fit are extremely important for achieving the perfect level of warmth and comfort. To make sure you're selecting the right size of boots for your little one, measure their feet from heel to toe while they're standing. Then add a half an inch to this measurement so that you can get a bit of growing room. It's also a good idea to find out if they have any special requirements that might affect their footwear such as narrow or wide feet. This will help ensure you choose the right fit.
Be sure to buy winter boots with adjustable features such as lace-up closures, buckles, hook-and-loop closures which will allow for more wiggle room if needed. Make sure you leave enough space around their ankle -you don't want them shoes to be too tight as this will impede circulation and cause discomfort when walking! Also check that the interior lining is softer against the skin -this is especially important when wearing thicker socks that may cause rubbing or chaffing on tender skin if not properly insulated from cold air and moisture. Finally, choose a sole that offers flexibility and traction as toddlers tend to be very active during playtime in harsher climates!
III. Types of Winter Boots for Toddlers
Winter boots for toddlers come in a variety of styles and materials, so you can pick the right ones for your needs. Below is a list of some of the most popular types:
Insulated Boots – Insulated boots are great for keeping your toddler's feet warm in cold temperatures. They are typically waterproof, have thick insulation on the inside, and are made with breathable material on the outside. Additionally, they often have adjustable straps or laces to make them easy to slip on and off.
Duck Boots – Duck boots look like traditional rain boots but feature faux-fur linings and extra insulation to keep feet warm during cold weather. Some duck boots even come with removable felt or fleece liners for extra warmth.
Suede Leather Boots – Suede leather boots provide a stylish alternative to other winter-weather footwear. These fashionable winter extras feature adjustable drawstrings, fur trim, and/or waterproof outer layers. Plus, they add an extra layer of protection between your toddler's toes and the elements; this makes them ideal for colder days!
Winter Hiking Boots – Winter hiking boots provide extra support and protection while walking during cold weather. These shoes usually have a strong rubber sole with good traction that helps prevent slipping on slippery surfaces like ice or snow. They also usually come outfitted with insulation to keep little feet warm during outdoor adventures!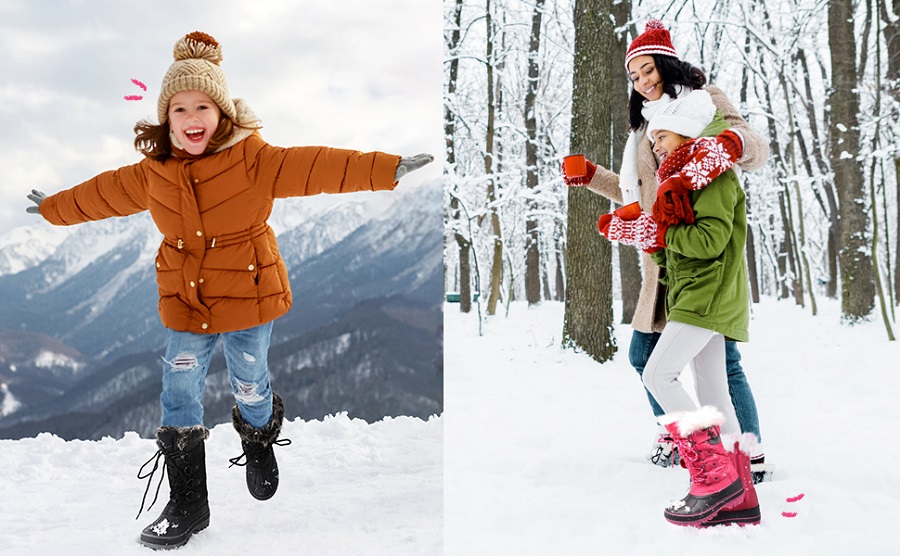 Snow boots
When choosing snow boots for a toddler, there are a few things to consider. Firstly, the boots should fit their feet properly and provide enough warmth for their feet in colder weather conditions. Secondly, the boots should provide traction to help prevent slips. Finally, the boots should be water-resistant and breathable, so they won't cause sweaty or uncomfortable feet.
Generally speaking, snow boots tend to be higher than regular winter boots and typically come with features like added insulation and waterproofing materials. In some cases, they may also come with reflective detailing that can help make your toddler visible in low light conditions and snowshoe-style lacing with several closure options for a secure fit in deep snow and rough terrain. Moreover, many of these types of winter boots come with special lining that can keep small toes warm throughout the day and even afterhours before bedtime.
Finally, when it comes to choosing fun designs for your toddler's cold weather wardrobe options, there are plenty of print illustrations from monsters to dogs as well as popular cartoon characters. Some all-accessories sets include gloves, hats and even coats which can make all of your toddler's cold weather attire complete.
Pac boots
Pac boots are waterproof winter boots that are designed to keep feet warm and dry in cold and wet winter weather. Featuring high-loft insulation material and a sturdy rubber sole, these rugged boots will provide reliable protection from icy snow or slushy rain.
Pac boots can make an excellent choice for little ones who spend a lot of time outside in cold climates, as they are designed to keep tiny feet toasty – even at lower temperatures! Be sure to select boots with an adjustable closure for easy entry and a secure fit that's comfortable enough for all-day wear.
Additionally, consider choosing boots with extra features such as thermal linings or removable inner layers that can be added or removed as needed in changing conditions.
Insulated boots
Insulated boots should be used during cold weather, particularly in temperatures below freezing. In order to keep your child's feet warm, insulated boots are made to be more lightweight and breathable while still providing warmth.
Special features, such as fur linings or water-proofing can increase the ability of insulated boots to keep your toddler's feet warm. Insulated boots should fit snugly but not too tight — try them on your child and make sure they wiggle their toes around comfortably. If necessary, add extra layers of wool or cotton socks for extra warmth and protection. These types of insulated boots typically provide protection up to -20 degrees C (-4F).
Recommended Brands and Models of Winter Boots for Toddlers
When it comes to selecting winter boots for toddlers, there are a wide variety of styles and designs. Many brands specialize in manufacturing winter footwear that is specifically tailored to meet the needs of children. Here are just a few of the most popular brands and their recommended models of winter boots that you'll want to consider when shopping around:
Kamik – Stomp Rainboots: These lightweight, waterproof rubber boots feature an adjustable quick-lock closure system and slip resistant soles. They can easily transition from wet days at the playground to snowy days on the ski slopes.

Sorel – Snow Commander Boots: Perfect for youngsters who love winter sports, these boots use Thermaplush insulation for exceptional warmth and have a removable thermal felt liner for enhanced breathability. They also feature a protective waterproof exterior along with skid-resistant outsoles for a safe grip on slippery surfaces.

The North Face – Nuptse Bootie: These sturdy little booties provide ultimate protection from snow and ice as well as extra midsole cushioning for comfort. With this model, you have the option of using either elastic laces or a specially designed toggle closure system depending on your child's preference.

Ugg – Baby Butte Snow Boots: These UGG booties offer exceptional durability without sacrificing softness and comfort thanks to their advanced double-faced sheepskin construction. They also include an EVA EVA outsole with traction control nodes so they can move around easier in icy conditions, plus they're fully machine washable!
Description of top brands and models of winter boots for toddlers
Finding the perfect pair of winter boots for a toddler can be an intimidating task. With so many brands and models of winter boots available, it can be hard to decide which ones would suit your child's needs best. It is important to first consider the type of cold climate you get in your area as well as the protection level offered by different types of winter boots. Depending on where you live, expect temperatures ranging from subzero to mild, requiring a different range of insulation levels.
For toddlers, a popular choice when it comes to winter boots are moonboots or snowboots that offer superior insulation and extra tread on the bottom for those who plan to go sledding or play in deep drifts – these types usually feature all-over waterproofing with adjustable, flexible laces for optimal fit and warmth. Some top brands and models include UGG Kids' Yoot Pac Nylon Boot (which boast a very comfy sheepskin lining), Baffin Kids' Bear Winter Boot (with thick rubber soles designed for easier foot movement in snowdrifts), Northside Frosty Winter Boot (which often come with removable faux-shearling liners) and Sorel Kid's Yoot Pac TP Winter Boot (with its low profile design for superior slip resistance).
All these features and more will help keep your toddler's feet dry blessedly warm even during long winters – plus they look pretty darn cute, too!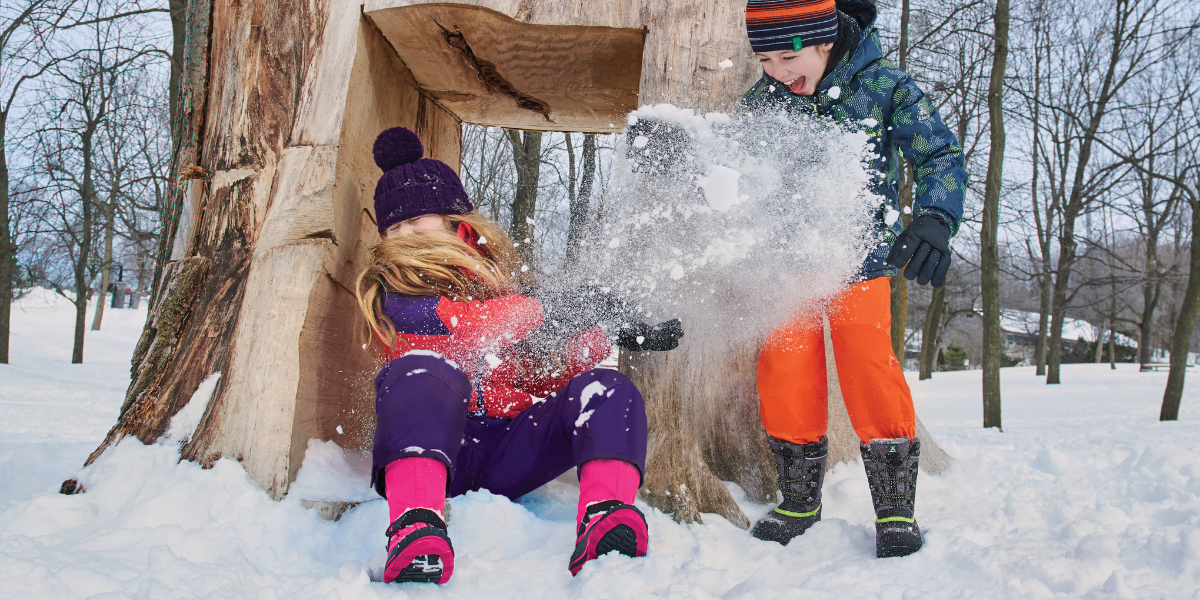 Conclusion
When shopping for the perfect winter boots for your toddler, there is much to consider. You will want to think about the style of boot you are looking for, as well as what type of material and insulation will work best in keeping your child warm and dry. Age-appropriate fit is also important in making sure they can easily walk while wearing the proper sized boots.
Lastly, remember that their feet can grow quickly so determine an adjustable closure such as laces or buckles to ensure your child grows into their winter boots for seasons to come. With these practical tips, you can help keep your loved one safe and cozy through every wintry adventure!
FAQ'S
How should winter boots fit a toddler?
Winter boots for toddlers should fit snugly but with enough room for their toes to wiggle. They should not be too tight or too loose.
Should winter boots be a size bigger for kids?
Winter boots for kids should be a half size or one size bigger to allow room for thick socks and to ensure they can move their toes comfortably.
How to choose snow boots for kids?
When choosing snow boots for kids, look for boots that are waterproof, have good traction, and are insulated to keep their feet warm.
Do toddlers need winter boots?
Yes, toddlers need winter boots to keep their feet warm and dry during cold and snowy weather.
What size of the boots that I should buy for my toddler?
The size of the boots you should buy for your toddler depends on their foot measurement. It's best to measure their feet and consult the sizing chart for the specific brand of boots you are interested in.
What size boot would a 3 year old wear?
The size of the boot a 3-year-old would wear depends on their foot measurement. On average, a 3-year-old may wear a size 8 or 9 toddler shoe, but it's best to measure their feet and consult the sizing chart for the specific brand of boots you are interested in.
When should kids start wearing winter boots?
Kids should start wearing winter boots when the temperature drops and there is snow or ice on the ground, typically around late fall or early winter.
Should you buy winter boots a size bigger?
It's recommended to buy winter boots a half size or one size bigger to allow room for thick socks and ensure comfortable movement of toes.
How do I know if my toddler boots fit?
You can know if your toddler's boots fit by checking if their toes have enough room to wiggle, if the boots are not too tight around the ankle, and if they can walk comfortably in them.
Are boots OK for toddlers?
Yes, boots are OK for toddlers as long as they fit properly and provide good traction and insulation to keep their feet warm and dry during cold and snowy weather.
See Also-