Are you planning a vacation for your toddler and looking for the perfect travel bed? You don't have to worry anymore.
In this guide, we'll show you exactly how to choose the right travel bed to ensure your little one is comfortable during the trip. With our complete guide, you can easily make an informed decision and find the perfect bed for your toddler!
Traveling with toddlers can be a tricky experience, as all parents know. A comfortable and safe sleeping spot is essential for them to rest and recuperate during long trips. This complete guide will help you choose the right travel bed for your toddler so that they can have a pleasant journey, no matter how far you decide to explore.
In this guide, we will discuss the various types of travel beds that are available on the market, looking at their design and construction materials in detail. We will also discuss key considerations such as height, weight capacity and safety features that must be taken into account when selecting a bed. Finally, we will provide helpful tips to make sure your toddler enjoys the most comfortable sleep possible during your travels.
Importance of choosing the right travel bed for a toddler
Choosing the right travel bed for a toddler is an important decision for parents. Not only do you want to make sure that your child is comfortable, but you also want to ensure their safety.
It's important to take into consideration factors such as the size of the bed and how easy it is to set up, since toddlers can't always be relied upon to stay in one place for too long. Additionally, parents should pay attention to material type and quality, as well as any additional features that may be beneficial during a vacation or other trip.
By doing your research beforehand and weighing all of these considerations against each other, you can find the perfect travel bed for your toddler!
Overview of the complete guide
When exploring the best travel bed for a toddler, there are a number of important factors to consider. While it's tempting to purchase the first bed you see, thoughtfully determining a safe and comfortable option for your little one will help ensure better sleep on trips. This guide will provide an overview of the various types of travel beds available, as well as insights into their features, benefits, and drawbacks.
Different kinds of travel beds can be broadly grouped into four categories: cots, air mattresses/beds, inflatable mattresses/beds, and foam mattresses. Each type has its own unique features that are designed to improve their portability and ease of setting up. Additionally, some are engineered for optimal comfort for toddlers who may have difficulty adjusting to sleeping in unfamiliar surroundings or on unusual surfaces such as beach sand or snow. Safeguarding your toddler from any hazardous materials or situations should also be taken into consideration when choosing the right travel bed.
The guide will also look at other aspects to consider beyond durability and comfort such as size & weight restrictions related to airlines; fire safety certifications; age limitation; added accessories; storage solutions; and cost-effectiveness versus convenience. Upon completion of this guide you should have all the necessary information you need to make an informed decision about selecting the perfect travel bed for your toddler!
Types of travel beds for toddlers
When shopping for a travel bed for toddlers, it is important to note that there are different types of beds available. Some are more basic and offer basic comfort, while others are designed with advanced features that provide more comfort and safety for your little one. The following sections highlight the various types of travel beds available to help you decide which one is best suited for your individual needs.
Portable Cribs: Portable cribs are beds designed to be quickly set up and taken down for travel purposes. They feature a collapsible frame which can easily be folded down into a compact size for storage and transport. Portable cribs usually come with a sturdy base and high sides to provide extra security and stability during use by toddlers.

Travelling Pack 'n Play: These beds look similar to portable cribs except they feature an expanded sleeping surface with breathable fabric walls fabled together in order to create a secure sleeping space when being used outdoors or when on the go away from home – offering increased safety features than traditional fold up cots or mats on the floor or couch beds which may lack built-in security safeguards without external boundary guards like walls or curtains around them which can pose safety hazards if not attached properly around those sleep surfaces while kids are using them non-supervised when napping or bedtime comes along in unfamiliar settings away from home such as on vacation, trips, overnight playdates etc…

Airbed/Inflatable Travel Beds: This type of bed is designed from heavy-duty vinyl material as opposed to sleeper mattresses, inflatable airmattres become an ideal option for traveling as they require very little setup time, easy transportation due being lightweight and air-filled respectively – saving much needed living space in small areas such as hotel rooms if needed putting improved comfort convenience relative ease at your fingertips during extended stays away from home so your kids don't have the feeling of being homesick missing the beloved comforts of home when staying away overnight far from familiar locations providing positive distractionary effects reassuring feelings of calm serenity enabling young ones better quality sleep compared to traditional hard foam mattresses can sometimes provide resulting in better energy levels throughout daytime activities while traveling that they still need staying active engaged along their journey with you when going long distances over multiple days & nights making memories together as family – bonding quality time spent outdoors exploring their world developing new skills broadening horizons having fun together growing healthier stronger together long after memorable trips have been completed making return home safe sound journeys well-worthowing each enjoyable experience cherished infused moments derived authentic valuable lifetime lessons earned never forgotten capping treasured shared celebrations…
Portable cribs
A portable crib is a great choice when traveling with a toddler. These beds are usually made of lightweight, collapsible frames, some of which can be folded into compact pieces that can fit into the trunk of a car. They tend to be smaller and lower to the ground than traditional cribs, so they are ideal for travel.
Portable cribs typically have mesh sides that provide good air circulation while also allowing your toddler to see out of the bed and feel secure. Some even come with adjustable mattress heights, making them suitable for children from birth through the toddler years. Portable cribs also provide an excellent sleeping surface for your child wherever you go and are very easy to set up and take down.
For added convenience, many portable cribs come with carrying bags that make it easier to transport them from place to place. When shopping for a portable crib, look for one that has been safety-tested and certified by an independent laboratory to meet current safety standards in your area or country.
Inflatable beds
Inflatable beds are a great travel bed option for toddlers, offering both portability and comfort. These lightweight, inflatable mattresses can quickly be deflated and folded into a small and convenient size for storage or transport. Inflatable beds are great for camping trips or other outdoor excursions, as they also provide insulation from the cold ground below. However, be sure that your toddler does not have access to the pump; it may be too difficult for them to operate safely.
When weighing your options for an inflatable bed, you should look at several key features: durability, sturdiness and comfort level of the material. It is also important to make sure that your inflatable mattress meets both fire safety regulations as well as safety guidelines set out by the Consumer Product Safety Commission. Some mattresses are flame resistant while others are treated with a special fire-resistant chemical which helps inhibit combustion caused by heat sparks or other sources of combustion.
Carefully read all product labels to ensure you're getting an air mattress that is safe for toddlers. The best inflatable travel beds come in multiple sizes so you can easily find one that fits your toddler's size needs; adjustable valves will also help customize their experience while they sleep. Make sure to check reviews on different products in order to find one with high customer satisfaction ratings — as well as make sure it comes with a warranty!
Sleeping bags
Sleeping bags provide greater freedom of movement compared with other travel beds, allowing toddlers to be comfortable as they move around. Sleeping bags also can make bedtime more secure and inviting – they are lightweight and easy to transport, come in fun colors and shapes, and enhance the feeling of security by surrounding toddlers with a warm cocoon of fabric.
They often have straps or ties so they can be attached to beds or strollers, making it easier for parents to place babies in a safe sleeping environment.
It is important when shopping for a sleeping bag that the warmth divided into "seasons" is appropriate for your toddler's needs. Heavy weight bags are often more suitable for winter months and lighter weight bags work well in warmer conditions.
III. Factors to consider when choosing a travel bed for a toddler
It's important to consider a variety of factors when you're choosing the right travel bed for your toddler. From safety and comfort to convenience and affordability, this guide will help steer you in the right direction.
Safety: The safety of your toddler should be your top priority when choosing a ride-along travel bed. Make sure any product you decide to purchase is certified by an independent testing authority, such as ASTM International (formerly the American Society for Testing and Materials). In addition, check that the bed is designed with no gaps between frame components that could trap fingers or other body parts. Also look for additional safety features like a secure locking system and anti-slip cushions or mats.
Comfort: When shopping for a ride-along travel bed, it's important to consider how comfortable your child will be during long trips. This means looking for a design that offers ample padding plus adjustable backrest, headrest, and leg supports so your child can sleep peacefully in any position. Ideally, the product should include extra accessories like padded pillows for added cushioning and additional cozy blankets for cold nights.
Convenience: While all good travel beds offer portability, there may be some minor differences between products when it comes to ease of assembly and dismantling. If quick setup is important to you, choose an option with easy adjustments like Velcro straps or drawstrings – these can save valuable time when setting up at rest stops or campsites. It's also worth considering how small the bed folds down so you know whether it will fit easily into your car's boot compartment or if special transport arrangements are needed.
Affordability: As children grow quickly and always seem to need new equipment before you know it, it pays to think about price before committing to a purchase. It may pay off in the long run to invest in something more substantial if use on multiple trips is planned – but bear in mind spending more doesn't necessarily mean getting better quality!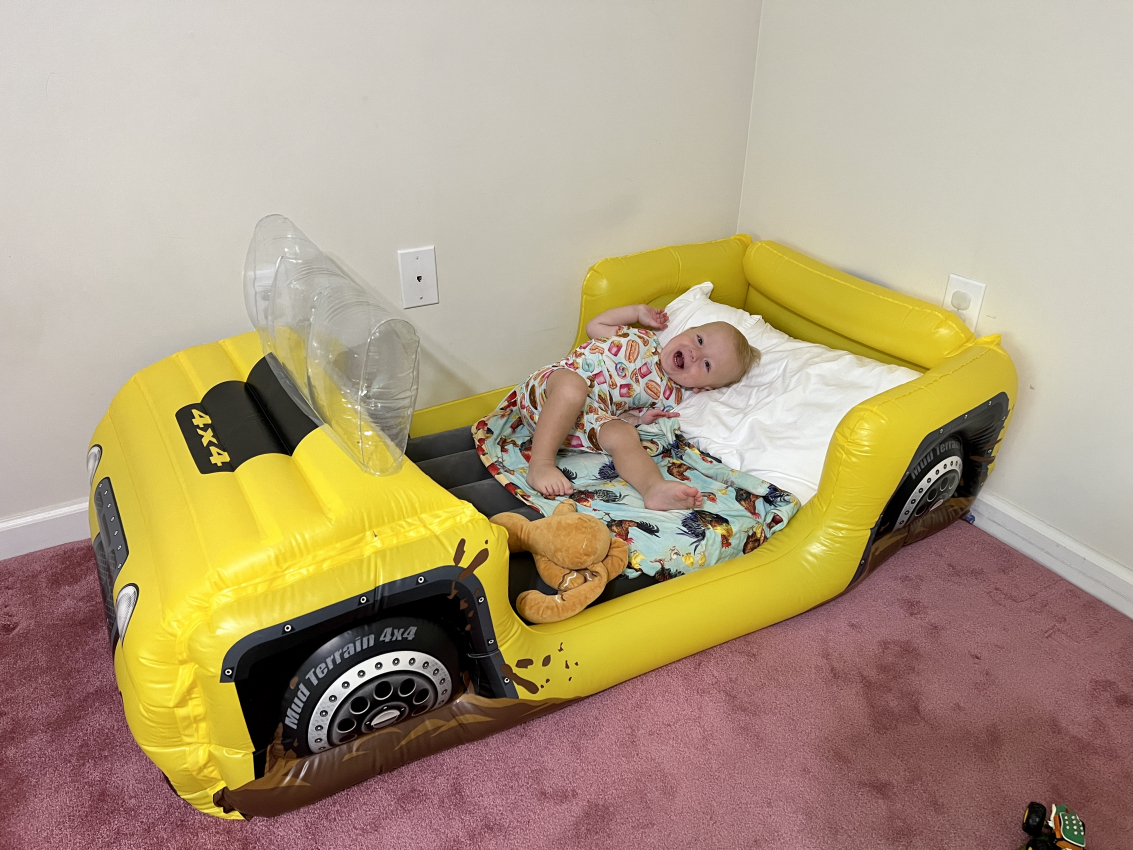 Size and weight
When selecting a travel bed for your toddler, look for one that is both lightweight and the right size. You want something comfortable enough to give your child a good night's sleep, but not so big and bulky that it proves impossible to transport.
The dimensions of the bed will depend on your toddler's age and size. Most toddler travel beds measure between 55″ x 29″ x 18″ (140cm x 73cm x 45cm) and move up slightly to 55″ x 34″ x 23″ (140cm x 86 cm x 58 cm) for larger children aged three years old and over. For babies aged twelve months or younger, standard crib mattresses work perfectly, but it's best to check with the manufacturer of the travel bed beforehand just in case there are size restrictions.
The weight limit should also be taken into consideration when making your choice – some models support up to 100 pounds (45 kg). Look for lightweight materials such as aluminum or plastic frame options with a weight capacity within an acceptable range for you and your family.
Comfort and safety
When you are selecting a travel bed for your toddler, comfort and safety should be your primary considerations. A travel bed should provide support and cushioning and be equipped with safety restraints or an appropriately-sized guardrail to ensure there is no risk of accidental falls.
You'll want to pick a size that's suitable for the age and size of your toddler so that there is adequate room for them to move around in the bed with sufficient space at the sides for them to stretch their arms out if needed. It's important that there are no safety hazards such as sharp edges, small parts, or other entanglements.
If possible, check the product thoroughly before selecting it—even if you're buying online—and be sure that it comes from a reputable seller with a good return policy in case you're not satisfied after purchase.
Ease of use and portability
Proper sleep and rest are crucial for the overall well-being of your toddler. That's why it's essential to select a travel bed that is comfortable, safe, and easy to use whenever you're away from home. In this section, we will cover what factors can provide a comfortable and enjoyable experience for both you and your toddler.
When considering portability, look for travel beds that can be easily folded up and stored away. Some models come with a storage bag or duffel bag, making it convenient to bring along during your travels. Portability also means taking into consideration the weight of the bed; sure larger beds are wider, but smaller models may be more manageable for longer trips – so consider each individual product before you make your purchase.
In terms of ease of use, look for beds that don't require any complicated set-up procedure– these days many products come with simple set up instructions on how to put together the bed quickly and effectively. Reviews are also helpful in finding out how user friendly different models may be. Additionally check if there is an extra mattress layer included which can make sleeping even more comfortable as it helps reduce any hard surface which might be bothering your child.
Top recommendations for toddler travel beds
Getting your toddler the perfect travel bed can make all the difference on a family vacation or sleepover. We've rounded up some of our best recommendations to help you find just what you need. These beds are designed with comfort and convenience in mind, so you can be sure your little one will get the best night's rest while taking in new sights and experiences.
The Regalo My Cot Portable Toddler Bed is an excellent travel companion for young ones aged two and up. This lightweight steel frame folds easily for storage and transport, making it extremely convenient for packing. Plus, washable canvas fabric makes it an ideal choice for kids who might have accidents or spills during the night!
The Lucky Lion Baby Toddler Travel Bed is ideal for trips with infants aged three months old and up. Its adjustable canopy tents and mesh windows protect them from bugs while still allowing air to circulate around them. Its cushioned sides also keep your baby safe while they snooze – perfect for parents who want to be extra careful when travelling!
Finally, the NapYou Infant Sleeper is designed specifically with babies in mind — its small size makes it easy to fit into backpacks or diaper bags without taking up too much space. It has a supportive, raised edge that helps babies stay secure while they sleep, along with a removeable foam liner that makes it comfortable even on hard surfaces like floors or tables!
Portable cribs.
Portable cribs are a great option for a toddler travel bed, as they provide a comfortable and safe sleeping space that is easy to set up and take down. Portable cribs typically have foldable legs for ease of storage and transport. They also come in several sizes, from mini-cribs to full-size beds.
Portable cribs usually feature mesh sides for ventilation, mattress pads, fitted sheets, and bumpers for added safety. Some models may also include bassinets or changing stations to make life even easier while traveling with a baby or toddler.
Conclusion
When it comes to choosing the best travel bed for your toddler, it's important to consider the size, comfort level, and safety features that are offered. Consider the elements of your lifestyle when selecting a toddler travel bed such as portability, ease of assembly and disassembly, storage space needs, warranty benefits, and overall cost.
A good travel bed for toddlers should provide ample sleeping space for your little one's growing body and be equipped with features that make both you and your child comfortable and secure. Flexible products like those that offer both sleep functions as well as play mats or activity centers can offer great value at the same time.
Purchase a durable product that you know has your child's safety in mind — read reviews carefully before making any final decisions on purchasing a specific model or brand of toddler travel bed. With proper considerations taken into account you will be able to find a bed that fits all requirements and even exceeds expectations!
FAQ'S
Where should 2.5 year old sleep when traveling?
A 2.5 year old can sleep in a variety of places when traveling, such as a portable crib, pack and play, or bed provided by the accommodations.
What should toddler sleep in when traveling?
A toddler can sleep in a portable crib, pack and play, or bed provided by the accommodations when traveling.
What beds do 2 year olds need?
A 2 year old can sleep in a toddler bed, a regular twin or full-size bed with side rails, or a crib that has been converted into a toddler bed.
What is the hardest age to travel with a toddler?
This can vary depending on the individual child, but some parents find that the toddler years (around 1-3 years old) can be the most challenging for travel.
What is the most difficult age to travel with a toddler?
The most difficult age to travel with a toddler can vary depending on the individual child, but some parents find that the toddler years (around 1-3 years old) can be the most challenging.
What not to forget when traveling with a toddler?
Some important things to remember when traveling with a toddler include bringing plenty of snacks and drinks, toys and activities to keep them occupied, and any necessary medications or supplies.
Where does a toddler sleep in a hotel room?
A toddler can sleep in a portable crib, pack and play, or bed provided by the hotel when traveling.
Is 2.5 too early for toddler bed?
This depends on the individual child and their readiness for a toddler bed, but some toddlers may be ready to transition to a toddler bed around 2.5 years old.
Is my 2 year old ready for a toddler bed?
This depends on the individual child and their readiness for a toddler bed, but some 2 year olds may be ready to transition to a toddler bed.
Can I move 2 year old to toddler bed?
Yes, if the child is ready and comfortable, a 2 year old can be moved to a toddler bed.
See Also-