Do you want to keep your toddler warm and snug this winter? Investing in a high-quality winter coat will be the most effective way to do so. You need not worry about the expense, as this guide will tell you everything you should know before making such an investment.
From the kind of fabrics to look for, to getting the right size, let's get started!
As winter approaches, it is important to invest in a high-quality winter coat for your toddler and equip them with the appropriate clothing for cold weather. Toddlers are highly energetic and run around regardless of what temperature or weather conditions are present outside. Thus, you need to make sure that your little one is suited up in warmth and protection from the cold.
It's not always easy to select a coat from the wide array of options available in the market today. How do you distinguish between a lightweight down jacket and a wool coat? What's the difference between synthetic insulation and natural down feathers? This guide will provide you with helpful facts on choosing a winter coat for your toddler that ensures comfort, safety, and style.
Importance of investing in a high-quality winter coat for toddlers
Parents often understand the importance of investing in high-quality winter coats for their toddlers. It's especially important to dress babies, toddlers, and young children in warm clothing during the winter season. Not only can cold weather harm their delicate skin, but it can also be detrimental to their overall health, causing illnesses like hypothermia. Investing in a durable, warm coat will keep your little one safe and comfortable as they play outside or attend outdoor events in winter months.
High-quality winter coats are created to withstand cold temperatures and precipitation. They are made with thick materials that keep heat close to the body and provide adequate insulation. Furthermore, waterproof varieties will offer extra protection from the harsh weather elements so your child stays dry even if it rains or snows during outings. Winter coats designed for children are designed specifically for their age groups offering cuffs that fit closely around hands, collars that seal out drafts at the neck area, adjustable hoods that protect from wind chills and quality zippers that won't break easily.
Brief overview of the guide
This guide is designed to provide parents with an overview of the different types and styles of high-quality winter coats for toddlers. It will help parents understand the factors they need to consider when selecting a winter coat for their toddler and how they can find the best, most comfortable coat appropriate to the season and their youngsters' specific needs.
The guide outlines the various types of insulation materials available, along with their respective benefits and drawbacks, so parents can make an informed decision that balances warmth, cost and convenience. It also covers construction features such as adjustable hoods and zippers for added comfort. Finally, it examines tips for finding winter coats that are stylish yet age-appropriate, as well as suggestions on proper care so your toddlers' coats maintain long-term insulation capacity.
The Benefits of a High-Quality Winter Coat
Investing in a high-quality winter coat for your toddler will provide numerous benefits that can make the cold weather season a much more enjoyable time. Here are some of the key benefits of investing in a high-quality winter coat for your little one.
Durability: High-quality winter coats are made with premium materials that are designed to stand up to the most extreme cold weather conditions. Not only will this help keep your child warm and dry, it also means you won't have to replace the coat as often, saving you money in the long run.

Comfort: A well-made winter coat is designed to provide maximum comfort and warmth while still allowing movement when needed. The quality materials used will also mean you won't have to worry about loose threads or buttons coming undone, no matter how active your toddler is during playtime outside.

Protection: High-quality winter coats are made with materials and designs that offer superior protection from wind and moisture, meaning your little one won't get chilled on their way to school or when they're out playing with friends. Thick fabrics will also provide an extra layer of insulation against bitter temperatures, keeping them warm even on the coldest days of winter.
Provides warmth and protection from cold weather
When temperatures start to drop, it's important to make sure your toddler is properly protected against the cold. Investing in a high-quality winter coat designed specifically for toddlers will provide them with warmth and protection from the elements.
Quality winter coats are designed to keep your toddler warm and cozy while keeping water and cold air out. They should also be lightweight enough to prevent overeating from a heavy coat, yet thick enough to provide protection against even the harshest conditions. Be sure to invest in an appropriately-sized winter coat that can withstand any weather conditions that may arise.
Many higher quality coats are also wind resistant and come with various features such as reflective details or removable linings for extra warmth. By investing in a quality winter coat for your toddler, you can ensure their comfort, safety, and warmth all winter long.
Durable and long-lasting
When considering what kind of coat to buy for your toddler, it's important to look for one that not only provides warmth and protection from the cold, but also meets your long-term needs. You'll likely want something that stands the test of time and keeps your toddler warm through several winter seasons.
Look for a high-quality coat made with materials that can withstand the wear and tear of being dragged around and played in by an active little one. Good materials include wool and synthetic blends, polyester fleece, nylon shells with waterproof membranes, as well as more technical performance fabrics such as Gore-Tex. These fabrics should keep your kid warm even when wet and be hard wearing enough to last multiple winters.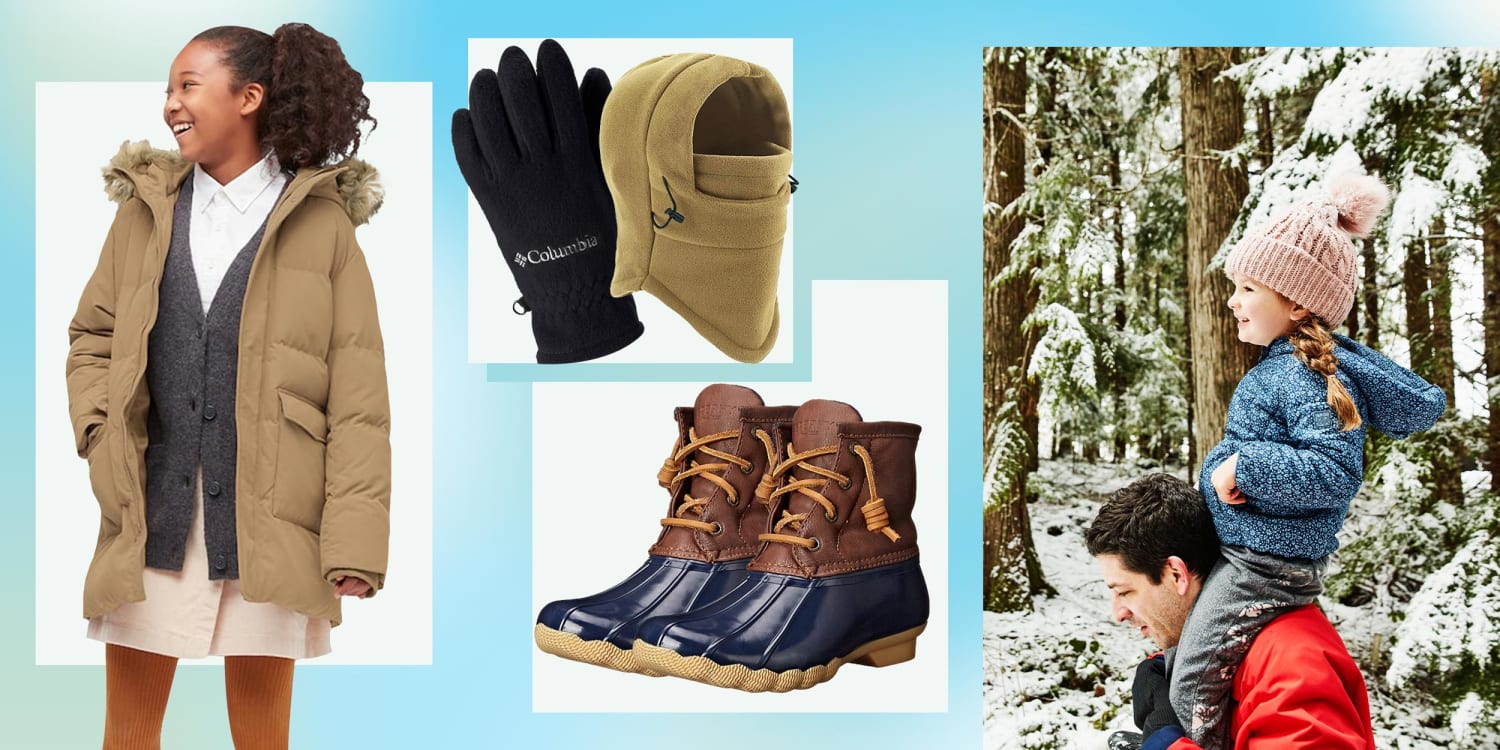 Can be handed down to younger siblings or resold
One of the great things about investing in a winter coat for your toddler is that as they grow, you can easily repurpose the item. There are two main benefits to this- you no longer need to purchase another winter coat for your toddler once they outgrow this one, and it eliminates unnecessary waste.
First, rather than needing to buy a new winter coat each time your toddler grows during the winter season, you can purchase a high-quality coat that will retain its warmth despite the wear that occurs when outgrowing a size. That way, you can resell it or pass it down to younger siblings and simply invest in a larger size when needed. Doing so may save you money in the long run and keeps usable goods from ending up landfills or other places where waste is disposed of.
Not only will this help environmentally but it also means less stuff takes up space in your own home. This allows you more storage space and more room to explore other items while giving away quality goods which someone else may find useable or enjoyable. Taking part in the "recycle" movement instead of throwing away is also more economically friendly.
Factors to Consider When Choosing a Winter Coat
When selecting a winter coat for your toddler, it's important to make sure you consider all the factors that will impact their comfort and warmth. Heat loss is a big problem for young children which is why choosing the right coat for them should be done with care.
A few things to consider include:
Insulation: It's important to choose a coat that provides enough insulation but is not too bulky so that they can play without too much restriction. Look for one with down or synthetic fill, as well as liners made from thermal materials such as fleece and wool.

Weatherproofing: Make sure the coat is waterproof and/or has additional layers of protection so that it won't get soaked in wet snow or rain. Seams should also be taped to prevent moisture from seeping through.

Breathability: Your toddler needs a winter coat that can keep them warm but also allows their skin to breathe so they don't get too hot when engaged in physical activity. Look for coats with vents or breathable lining material.

Comfort Features: Ensure your toddler can move freely and fit extra layers underneath by choosing coats with adjustable cuffs, an adjustable storm hood, elasticized waistband, along with plenty of pockets for carrying those small items like snacks and toys.

Materials: Make sure the material your dress is made out of will last more than one season; look for coats constructed out of high quality fabric such as Gore-Tex fabrics which offer excellent wind and water repellency, as well as breathability. Finally, opt for bright colors or reflective tape if possible so your child will stand out when playing outdoors in low light conditions like at dusk or dawn.
Material
When choosing a material for your toddler's winter coat, look for something that is durable, waterproof, and breathable. Natural fibers like wool and cotton are often best in terms of keeping your toddler covered and warm. However, these materials can be expensive and may not provide the full protection necessary depending on where you live.
Synthetic fabrics such as nylon or polyester are more affordable options that still offer excellent protection against the elements. Make sure to check the label to see whether or not the material is windproof and waterproof before making your purchase.
Insulation
When it comes to insulation, look for a coat that has a high fill power rating. Fill power ratings are measured in cubic inches and indicate how much air or "loft" is filled in the insulation. A higher fill power number will give your toddler more warmth and still be lightweight enough that they can move with ease.
Look for down winter coats with a rating of 500 or higher, like the Snowy Waves coat from Nogginwear. This ultra-warm coat offers maximum warmth without burdening your child with uncomfortable bulkiness. While down is usually warmest, synthetic insulation is an excellent option for toddlers who are especially active, as it provides greater durability than down does over time.
Again, when looking at ratings, synthetic insulations should be 400 or above for maximum warmth and comfort.
Fit and comfort
Finding a winter coat that not only fits your toddler properly, but also keeps them comfortable is an important factor to consider when making your purchase. It's worth investing in a coat with a roomy fit and adjustable cuffs, hood and waist. This will allow for growth as your child gets bigger and provide them with more comfort when wearing the jacket.
The material of the coat is also important as it should be durable and waterproof enough to protect against snow, wind, rain and cold temperatures. When shopping for a winter coat for your child look for one with high-quality fabrics such as wool or synthetic materials. These will provide more insulation meaning that your child stays warm even in cold weather conditions.
Also consider opting for a breathable material such as cotton or fleece which will help keep the material from becoming too hot during the colder months while still being resisting rain or snow. A perfect combination is a waterproof shell fabric on the outside and soft interior lining on the inside which will help protect against wind chill while remaining breathable and comfortable on the inside.
Style and design
When choosing a winter coat for your toddler, there are a few different design and style options to consider.
Thick and puffy jackets may be the most popular choice, but they are not the only one. Thinner bomber jackets or soft-shell coats can also be great choices when dressing your child for colder weather.
Look for coats with zippers or snap closures that make it easy to take off and put on, as well as features like hoods, storm cuffs, sidewall insulation panels and drawstrings to protect against wind and snow.
Babies may also prefer more lightweight fabric in bright colors or fun patterns like plaids, polka dots or stars.
Conclusion
In conclusion, investing in a high-quality winter coat can be the best choice for your toddler. With the right properties to keep them warm and protected from the elements, you can have peace of mind that they're staying comfortable during cold weather.
Furthermore, choosing an outerwear piece with waterproofing and insulating capabilities allows your toddler to explore confidently in any weather condition, while durable fabrics and construction will ensure lasting use for many cold winter seasons to come.
FAQ'S
Do toddlers need a winter coat?
Toddlers may need a winter coat in cold weather to keep them warm and protect them from the elements.
What is the warmest winter coat for toddlers?
The warmest winter coat for toddlers may vary depending on personal preferences, but some popular options include down jackets, parkas, and insulated jackets with hoods.
What are the qualities of a good winter coat?
A good winter coat should be warm, comfortable, durable, water-resistant, windproof, and well-fitted. It should also have features like a hood, pockets, and adjustable cuffs.
Why do you need a good winter coat?
A good winter coat is necessary to keep you warm, dry, and protected in cold and harsh weather conditions.
How do I choose a good quality coat?
To choose a good quality coat, consider the material, insulation, durability, water-resistance, windproofing, fit, and features like pockets, zippers, and hoods.
Is a winter coat a good investment?
Yes, a winter coat can be a good investment as it can last for several years and provide protection and warmth in harsh winter conditions.
How do I choose a winter coat for my toddler?
To choose a winter coat for a toddler, consider the size, warmth, comfort, durability, water-resistance, windproofing, and features like hoods and zippers. It's also important to ensure the coat fits properly.
How do I choose a toddler winter jacket?
To choose a toddler winter jacket, consider the same factors as for a winter coat, including size, warmth, comfort, durability, water-resistance, windproofing, and features.
What should toddler wear in winter?
In addition to a warm winter coat or jacket, toddlers should wear warm layers, hats, gloves, and boots to stay warm in cold weather.
Should I make my toddler wear a coat?
It is recommended to make your toddler wear a coat in cold weather to keep them warm and protected from the elements.
See Also-