Worried about how to choose the perfect toddler suitcase for your travels? You're not alone. Picking the right carry-on size and material for your little one can be daunting. Don't stress!
This guide will provide you with all the essential tips you need to make an informed decision that works best for your family.
One of the most important things to consider when planning a vacation with young children is what type of luggage to use. Toddler suitcases are specifically designed for younger travelers and can make the packing process much easier.
In this guide, we'll take a look at how to determine the right size and style of toddler suitcase as well as provide tips and tricks for getting the most out of your purchase. From lightweight hardshell designs to rolling backpacks, there are numerous options available on the market today; by following this article, you will be able to find the perfect choice for your child's needs and budget.
With thorough preparation, even family trips with toddlers can be enjoyable and stress-free!
Importance of choosing the right toddler suitcase for travel
When you're traveling with your toddler, it's important to choose the right suitcase for the task. A good quality toddler suitcase should be lightweight, durable and equipped with helpful features – all designed to make your travel experience pleasant and stress-free. Not to mention, fun for children!
The right toddler suitcase will also help them become involved in the preparation for the trip. Showing them where their suitcase is that they will use on the journey is sure to build excitement, teaching them lessons of responsibility as a wonderful additional bonus.
It's natural to want the best of both worlds – convenience and functionality without sacrificing style or comfort. Thankfully, there are lots of cute designs available that have thoughtful features too. Here are some features you should consider prior to making an investment in a great quality toddler suitcase:
Benefits of having a toddler suitcase designed for travel
When looking for the perfect toddler suitcase for travel, one of the biggest advantages is that it can easily be carried by a child. Small-sized suitcases are ideal for children to manage and even pull along with the help of their parents. This makes it easier for them to get around airports and terminals.
Another benefit of having a toddler suitcase specifically designed for travel is that they are generally lightweight, which makes them perfect for baggage limit exceptions in many forms of transportation. Most modern toddler suitcases come with a variety of small compartments and pockets to store items like toys, books, snacks and other items vital during travel.
Finally, these suitcases are usually waterproof and durable so they can survive wear-and-tear during long trips. Arms and shoulders won't get tired when carrying these suitcases around as most have straps or adjustable handles designed to make them comfortable during use.
Overview of the guide
This guide provides parents with an overview of the essential features and considerations for choosing the right suitcase for their child. Primarily designed for those who are travelling, it takes into account everything from size and design to practicality and durability to ensure that the suitcase chosen is up to parents' desired standard.
The types of luggage available vary, with hard shell cases offering increased protection while hard-wearing fabrics allow a greater range of designs. Each type has its unique benefits, as outlined in this guide, allowing parents to make an informed decision based on what is right for their family's needs.
Parents are also encouraged to consider additional features such as trolley handle height adjustability, smooth-rolling wheels and ergonomically designed handles to ensure ease of use and comfortable carrying. Alongside the aesthetics, safety aspects such as high visibility reflectors are important considerations when it comes to picking out a suitcase that will do its job in protecting your little one's belongings during travel journeys. Details such as bright colourings, compartments for added storage and internal straps also play beneficial roles in making sure children stay organised during trips away from home.
Factors to consider when choosing a toddler suitcase for travel
Before you buy any toddler suitcase, it's important to consider some factors that will make the purchase easier and help you choose the best suitcase for your child. These include:
Size: The size of the toddler suitcase is probably one of the most important factors to consider when making a purchase. It should be big enough for all their belongings but not too large that it doesn't fit in an airplane seat or if it becomes too heavy for them to carry around. Consider getting an expandable suitcase so that extra items can be added if needed. Also, make sure that the handle is adjustable as well so your child won't have difficulty carrying it around.
Durability: Durability is also another essential factor to take into account when choosing a toddler suitcase. Look for suitcases with a strong, sturdy frame and ones made from quality materials such as polyester or nylon which are both known for their durability and strength even when exposed to everyday wear and tear. Additionally, look for features such as reinforced corners which provide more support and protect the contents inside from being damaged while in transit.
Compartments: Luggage with separate compartments makes it easier to organize your kid's items during travel while ensuring everything is secure within one area rather than having individual bags or containers within your main bag which makes tedious unpacking and packing even more time-consuming and stressful. Separate pockets or dividers also help make efficient use of space within the bag allowing you to store more items if needed without compromising on weight limits by airlines. Most importantly, look for suitcases with mesh pockets on either side since these are great spots to stash small things like snacks, tissues, books etc., helping kids keep their toys close at hand during long trips.
Size and weight
When shopping for a suitcase for your toddler, size and weight should be your key criteria. While it's hard to anticipate how much your toddler will grow in the next few years and you want something that will last longer, it is still important to look for a suitcase or carry-on luggage that your child could carry as an independent traveler on his or her own.
The average weight for checked luggage for toddlers should not exceed 5 lbs (2.3 kg). To make sure you get the exact size requirement, measure the maximum length and width of the bag once you lay it out flat. For most standard Hartsfield International Airport regulations, the maximum linear dimensions (length + width +height) is 45-inches (114 cm). Checked luggage should not exceed 62 linear inches (157 cm).
For size requirements on other airlines and airports, please refer to their regulations before making a purchase.
Durability
When considering a toddler suitcase, it is important to choose one that will stand up to the rigors of travel. You want a suitcase that is made of strong, durable materials that can withstand frequent use and abuse. The most durable suitcases are made with tear-resistant fabrics or leather.
You may also want to consider a lightweight but sturdy suitcase with metal frames and reinforced corners or edges. If you plan on using the bag frequently, opt for models with wheels and handles to make transport easier.
Finally, look for suitcases with secure closures such as zippers or buckles to keep your child's belongings safe and secure on their travels.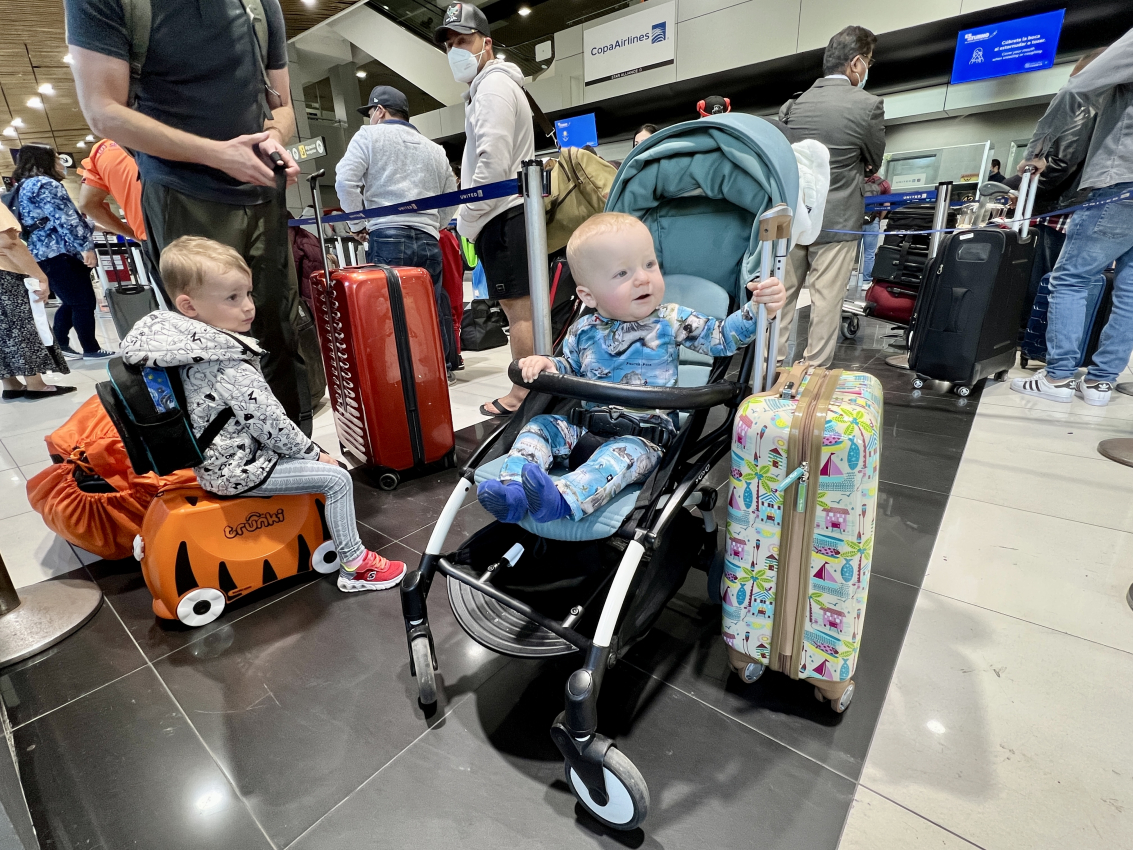 Wheel type and mobility
When choosing a toddler suitcase, it's important to keep in mind that the perceived weight of the bag can be much greater when your toddler is rolling it. You'll want to make sure you get one with large, durable wheels that are smooth and maneuverable. Single wheel or spinner designs are best for small toddlers due to their increased mobility and ability to easily move the bag around corners. They'll also be able to pull those bags around on their own or you can simply push them along with one hand while holding their other hand.
Of course, luggage on wheels makes life easier when kids outgrow carrying their own luggage, as adult sizes also tend to be found in wheeled versions. Whichever type of suitcase you choose for your family trips, it's important that you make sure all pieces are strong enough for your child's weight and activity level.
 Safety considerations for toddler suitcases
When it comes to choosing the right toddler suitcase for travel, safety should be your first priority. Make sure you get a bag with a secure lock that is too difficult for your child to unlock on their own.
It's best to choose a vehicle-powered suitcase, such as an upright model, as it will move in pace with your toddler and follow them rather than zip away from them. Additionally, look for a specialized telescoping handle designed for small hands to help make it easy and comfortable for little ones to guide the suitcase.
Lastly, select one made of lightweight materials so it is not too heavy or cumbersome for toddlers or young children. Consider durable materials so you don't have to worry about wear and tear while transporting your child's luggage between different destinations.
Secure zippers and locks
Toddler suitcases should well-constructed with secure zippers and locks. The zippers should be able to stay closed on their own, which will help prevent toddlers from accessing the contents during travel. If a lock with a combination or key is provided, it's important to also ensure that they're durable enough to stay securely locked until reached your destination. Additionally, it's important to make sure that any locks are attached properly and aren't easily removable by curious children during the trip.
Once you've confirmed that all the locks and zippers are secure, rest assured that your toddler's belongings will remain safe while they travel.
Non-toxic materials
Non-toxic materials are essential in a toddler suitcase. Young children often chew on items, so it is essential that the material of the suite is non-toxic and free from any harmful chemicals. Many parents opt for eco-friendly suitcases with all natural materials such as bamboo or organic cotton to ensure the safety of their children.
When choosing luggage, you will want to consider the type of fabric or material used to construct the suitcase. Most suitcases are made of nylon, polyester, canvas or other synthetic fibers. Ideally, you should select one made entirely from a natural construction material such as cotton or wool which is not treated with any potentially harmful chemicals. Look for alternatives and note if there are any health warnings associated with the product, before purchase. Non-toxic suitcases can carry less chemical residue and also provide better protection against mold and mildew build up during transport and storage.
 Top toddler suitcase brands for travel
When it comes to buying a toddler suitcase for travel, there are many different brands that you can choose from. Each brand specializes in specific features, materials, and price points, so it can be difficult to decide which one is the best for your child. To make your decision easier, we have rounded up some of the best options available on the market.
Samsonite Samsonite offers a wide range of lightweight yet durable suitcases that are perfect for toddlers. Their luggage comes with plenty of pockets and storage compartments to keep your child's items neat and organized while on the go. Some of their top products include the Winfield 2 fashion HT luggage set in various colors as well as their S'Cure line which is known for its strength and longevity.
Rimowa Rimowa is another great brand for those looking for a high-quality toddler suitcase for travel. Their Toddler Collection is designed specifically with young children in mind, featuring fun colors and motifs that make traveling fun. Plus, Rimowa products are made from extremely durable materials such as aluminum or polycarbonate so they can withstand the wear and tear that comes along with having a toddler as a traveler!
Travelpro Travelpro makes both hardside and softside suitcases that are designed with toddlers in mind! Their suitcases feature plenty of easily accessible pockets and space to store all of your little one's essentials while on-the-go. Plus, their products come with multiple color options so you can find the best one to match your child's personal style while they're out exploring the world around them!
Jump Apparel Jump Apparel focuses on creating fun yet functional suitcases specifically designed for toddlers who love exploring new places. Their colorful designs feature an array of characters and animals that bring life to travel accessories! All their suitcases also come equipped with four spinner wheels so they can easily be handled by small hands while still being strong enough to protect all their important items during travels abroad!
Overview of popular brands
There are a variety of well-known brands that make quality toddler suitcases highly recommended for travel. These brands create luggage featuring an array of sizes and colors that provide parents with several options in looking for the right suitcase to meet their needs. Let's take a look at some popular brands offering travelers stylish and functional toddler suitcases.
Samsonite – Samsonite has been around since 1910 and continues to be a leader in the travel luggage industry with its reputation for fashion, function, quality, and durability. They offer great collections suitable for a toddler such as the playful B-Lite 3 PN line featuring lightweight designs outfitted with smooth-rolling wheels. Also, their Firelite line features eye popping colors perfect for toddlers.
American Tourister – American Tourister is another growing brand taking over the market and it is created especially for kids providing vibrant colors ideal for toddlers who want to show off their own independence when traveling with friends or family. The Disney designs will especially delight your child with its fun designs featuring characters from movies like Finding Nemo or Cars – an instant hit for Disney fans!
Canberra – Canberra is created with high quality materials designed to take on any type of usage you need it to endure –from daily commutes via train or car rides to jet-setting overseas adventures as young travelers explore new settings or cultures. Canberra also offers stylishly unique designs sure to have "cool-factor" appeal that your kid will love!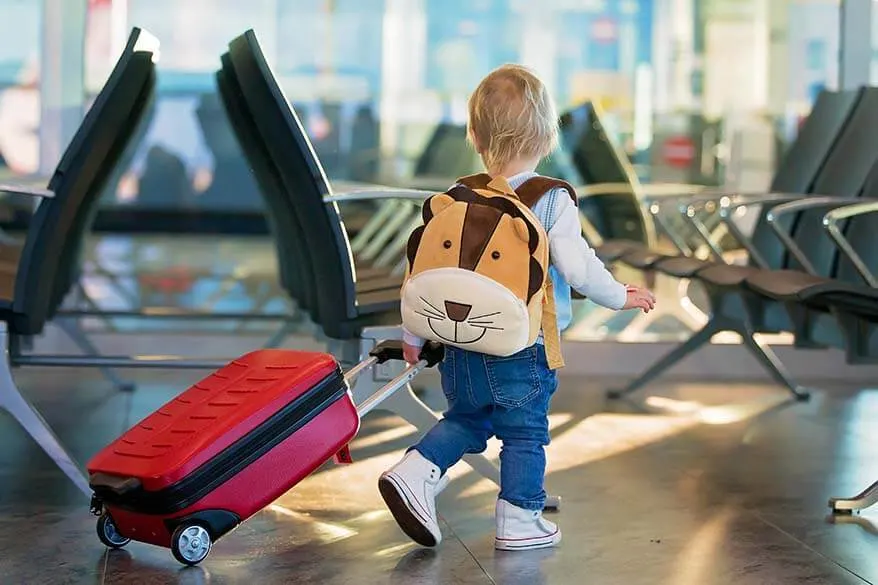 Conclusion
To wrap up, choosing the right toddler suitcase for travel can be overwhelming and challenging. There are many important factors to consider when selecting the perfect one, such as age appropriateness, size, durability and organization. We recommend looking at the various types of luggage available and considering those important factors before making your final decision.
Furthermore, ensure the suitcase you choose is up to industry standards and isn't an inferior product. Ultimately, your toddler deserves something sturdy, safe and enjoyable to use on all their adventures!
FAQ'S
What size suitcase for a toddler?
A small suitcase or backpack is suitable for a toddler.
What size suitcase is best for child?
A medium-sized suitcase or backpack is ideal for a child.
What should I pack in my toddler's suitcase?
Clothing, diapers, wipes, snacks, toys, and other essentials should be packed in a toddler's suitcase.
What size suitcase is best for travel?
It depends on the length of your trip and your personal preference. A medium-sized suitcase is generally versatile and suitable for most trips.
What size does a 2 year old toddler wear?
The clothing size of a 2-year-old toddler varies, but typically ranges from 2T to 3T.
What should I pack for my 2 year old on a plane?
Snacks, books, toys, and other forms of entertainment, along with diapers, wipes, and a change of clothes, are essential items to pack for a 2-year-old on a plane.
Does a 2 year old get luggage allowance?
It depends on the airline's policy. Some airlines provide a luggage allowance for children as young as 2 years old.
How much baggage is allowed for 2 year old?
It depends on the airline's policy. Some airlines provide a free luggage allowance for children as young as 2 years old, while others may not.
How do I know what size my toddler wears?
You can determine your toddler's clothing size by measuring their height and weight and consulting a size chart from a clothing manufacturer.
What should a 1.5 year old pack on a plane?
When traveling with a 1.5-year-old on a plane, it's important to pack essentials such as diapers, wipes, bottles, snacks, and toys to keep them entertained during the flight. Additionally, pack a change of clothes, a blanket, and any necessary medication.
See Also-