You want your toddler to look the best in their little suit? Looking for a complete guide that can help you style your toddler in the perfect suit?
Then this is the right article to read! With this guide, you will find effective styling tips and tricks that'll leave your toddler looking like royalty!
In today's fashion-conscious world, your toddler can make a statement with the right suit. While it might be tempting to buy a popular name-brand suit off the rack, an experienced tailor can guide you in finding the perfect fit and style for your little one. Choosing a quality suit that takes into account size, shape and age will ensure that your toddler looks grown-up, but still comfortably stylish.
This complete guide will provide you with essential tips on how to choose a sophisticated suit for your toddler or preschooler. From material to sleeve length and accessories, follow along for everything you should know about finding the perfect ensemble for any special occasion or simply to look their best!
Importance of dressing toddlers in appropriate attire
Dressing your toddler in appropriate attire not only looks great, but it shows respect for the occasion and venue. It also helps to convey a message of professionalism and responsibility in situations for which toddlers are often too young to understand the importance. From first days of school photos to dressier occasions such as baptisms, weddings or even a holiday card photo session, taking the time to select age-appropriate clothing is worth the extra effort.
When choosing garments for your toddler, consider the season and weather. Comfort is key — select materials that are lightweight and breathable for warm summer days. For colder temperatures, you may need layering pieces or outerwear for added warmth. Make sure there is enough room to move often in clothing that's not too tight-fitting. Also think about how easy garments will be to take on and off; snaps or diaper panels can save a lot of time with younger children.
Color choice plays a role too — bolder prints may photography well in cartoons but can look chaotic in real life attire so opt for more subtle patterns when selecting garments for toddler dress-up occasions. Think of head-to-toe looks – from shoes and socks to accessories like hats or gloves —to complete your little one's appropriate ensemble for any welcoming affair!
The significance of choosing the right suit for toddlers
When selecting a suit for your toddler, it is important to consider the purpose of the outfit and the overall size of the suit. It is not necessary to purchase overly large suits with room to grow as this may be too big for your little one. The child's age and activities will also play a role in determining what type of suit might be best.
For formal events such as weddings, christenings, or a family portrait, it is important to select an outfit that is both stylish and comfortable. Light weight fabric in classic colors will allow your child to move around easily without discomfort. If your event has a dress code such as "Black Tie" then inquiring ahead of time in order to determine exactly what type and color of suit may be required would be beneficial when making your selections.
For casual events such as birthday parties or special occasions like holidays, you have many options available so use creativity when styling the perfect look! You have an opportunity to brighten ordinary occasions by choosing creative colors, fun textures and different shapes while still offering comfort and protection from elements like wind or rain when necessary. As with any fashion style decisions it can be helpful to explore additional looks through various sources like magazines or blogs! This can help you decide on something that will flatter his figure but still maintain comfort for a toddler on-the-move!
Brief overview of the guide
This guide provides a comprehensive and thorough overview of what to consider when dressing your toddler in a suit. From the basics such as fabric choice, shirt and trousers length, to the intricate details such as color matching and accessorizing, this guide will provide some useful tips for you to get your little one looking his best.
It also includes advice on how to shop for suits for toddlers in terms of sizes, colors and styles. Whether you're dressing up your toddler for a special occasion or simply want him to look smart on an everyday basis, this guide will provide all the information that you need.
With this knowledge at your disposal, you will be able to find the perfect suit at an affordable price while ensuring that he looks his very best.
Choosing the Right Suit for Your Toddler
When it comes to choosing the right suit for your toddler, there are a few key factors to consider. In terms of the fit, ensure that you select the right size and style to ensure it is comfortable for your little one. Additionally, consider how formal you would like your toddler's look to be. Choosing an outfit with more formal detailing such as pleats or sharply creased trousers can give their look a more professional edge. Of course, comfort should also be taken into account as no one wants an unhappy tot dressed in uncomfortable clothing!
When selecting fabrics for a suit for your toddler, focus on lightweight and breathable options such as cotton poplin or linen blends. You may wish to opt for nods towards formality with pinstripes or other subtle textures in fabrics like wool flannel or corduroy. Avoid stiffer fabrics such as polyesters which limit their movement and cause discomfort.
Your little one's age can also play a vital role when selecting a style of suit. Younger toddlers may benefit from styles with short tails rather than full-length ones – this will remove any excess fabric which could drag on the floor – whilst older toddlers can wear fuller-length suits if desired.
Factors to consider when selecting a toddler suit, such as color, material, and size
When selecting a suit for your little one, color and style are important factors to consider. The right choice of colors and patterns for the suit can help add an extra bit of flair to your child's look. A navy blue or black suit could be a good choice if you're aiming for a formal appearance. However,you may opt for something more light hearted such as a pastel pink or powder blue if you want something that is more suitable for special occasions.
The material is also important in ensuring your child is comfortable in the clothing at all times. Cotton tends to be lightweight and airy, making it ideal for warmer months or special events when you expect your toddler to be active throughout the day. Polyester offers an affordable alternative while still remaining comfortable and wrinkle-resistant, allowing you to save money while not compromising on quality.
Finally, knowing your toddler's correct size before purchasing is essential in avoiding returns and delays at checkout. Take precise measurements of their waist and chest before shopping online or make sure they are fitted correctly in store by having them try the garments on beforehand. It's always best to adjust during the fitting process so that the suit fits snugly yet comfortably around their body type with room left over for layering underneath if needed. With careful consideration taken into all these factors, you will find that styling your toddler with the perfect suit becomes easier than ever!
Tips for buying a suit that is comfortable and fits well
When buying a suit for your toddler, a few key elements should be taken into consideration. Firstly, it is important to ensure that the fit of the suit meets with your particular body type and size. Suits are generally designed for bodies of different sizes, so you should make sure that yours fits comfortably around the chest and waist area. Additionally, you should check how the length of the suit feels; for instance, all suits should fit past the wrist and ankle area, allowing sufficient breathing room for maximum comfort.
Secondly, fabric quality is also crucial; a low-quality material often translates to an ill-fitting product which could damage your child's delicate skin. Make sure to buy a soft fabric that is comfortable against their skin yet durable enough to withstand everyday wear and tear. Furthermore, consider caring for your toddler's suit appropriately by handwashing or laundering as instructed on the label; this will help extend its life compared to regular washing machines which can be harsher on material fibres.
Finally, don't forget about style! A perfect-fitting children's suit in a fun pattern or color will have them looking their best while providing much-needed comfort during special occasions or daily wear time. Finding quality suits with thoughtful detailing at reasonable prices does not have to be difficult – just make sure to keep these essential tips in mind during your shopping journey!
Accessorizing the Toddler Suit
Accessorizing your toddler suit with the right clothing pieces and accessories can really make or break the look. The key is to remember that suiting accessories should always scream sophistication and stay in line with industry trends. Here is a comprehensive guide on how to appropriately accessorize your toddler's suit for any occasion.
Hats
For formal occasions, such as weddings or christenings, a small hat, such as a fedora for boys or an organza bow for girls is appropriate and even encouraged. However, please keep in mind that toddlers don't usually have much of an opinion on this, so either you choose hats with ease of removal in mind or opt out entirely.
Footwear
One of the most important factors for looking sophisticated is to pick proper footwear, which does not mean miniature adult-sized versions but child-appropriate options such as loafers or Oxfords. Your child must be comfortable at all times so premium natural leathers are strongly recommended over synthetic materials which can cause blisters and irritations to young feet.
Gloves
If you're dressing up your baby or toddler boy in a formal suit comes the perfect opportunity to introduce him to stylish gloves. Available in all sizes they can add an extra flair while keeping their little hands warm during colder days at events like Easter celebrations outdoors. Please remember that sizing reflects age but you should always double check by measuring your child wrist before buying them – no one likes overly tight gloves!
Embroidery
For formal events think about adding additional legible embroidery (initials) onto their attire if possible; this adds up personality while subtly maintaining the formality of the situation and dress code requirements simultaneously.
Choosing the right shirt, tie, and shoes to complement the suit
For the newest member in your family, it is essential to make sure that he looks stylish and perfectly dressed on special occasions. Dressing up a toddler for formal occasions, such as weddings, can be quite challenging at times. A suit paired with the right shirt, tie and shoes will go a long way in giving your toddler an impressive look. Here are some pointers to help you choose the perfect accompaniments for your toddler's suit:
Shirt – When styling a toddler, it is important to consider shirts of softer cotton fabric with long sleeves that fit properly. Choose different colored shirts – think light blue, white or pale pink- or patterns such as tiny polka dots or stripes and also check that they should be easy to care for.
Tie – When it comes to tying a bow tie on your little one's neck ,it may seem like mission impossible at first but with practice you will manage just fine! Alternatively you can opt for pre-tied or clip-on ties which come in a plethora of colours and designs that would be extremely convenient to style your little one effortlessly within minutes.
Shoes – Consider opting for leather styles instead of canvas shoe lids as they are more durable and likely to last longer on rough ground as toddlers love running around! It might also be prudent to get shoes of sizes greater than what fits him/her initially since children tend to grow fast – this would save you from having multiple shoe shopping trips!
Tips for selecting accessories that match the suit and enhance the overall look
When styling your toddler for a special occasion, it is important to remember that accessories can greatly enhance the look. Accessories are not just about completing the outfit, but also about pulling it together with a more unified and polished look. Consider adding accessories such as bow ties, neck ties, pocket squares, suspenders, watches and shoes to create that extra touch of sophistication and style.
Bow ties are especially ideal for toddlers since they come in a variety of fun colors and patterns. Neckties in matching or complementary colors can also be worn to elevate the overall look and help complete any suit ensemble; however, keep in mind that the size should correspond with the style of suit being worn. If selecting a neck tie for your toddler opt for either short ties in two inches or up to four inches maximum. The shorter length will add visual interest by highlighting their tiny frames while still appearing neat and appropriate.
Adding coordinating pocket squares is also another wonderful way to add color to any outfit while keeping it looking very classic and stylish at the same time. Pocket squares come with an array of styles from silk plain hankies buffed into perfect pleats at one side to pre-made ones crafted from cotton or polyester featuring different type prints ranging from tartan, gingham checks or plain paisleys on them all these fabrics instantly grabs attention with its visual eye-catching effects when peeking from under a suit jacket.
In addition suspenders are great options as they can make any ensemble more sophisticated as well as being functional; having designed specifically for tiny hands suspenders have clips on either side which allow them slide down easily over straps hence allowing toddlers put them on easily when wearing long sleeved shirts or suits over short-sleeved ones which secures an overall better fit saving time during dressing up their fashion needs or helping keep their little pants up!
Lastly grooming accessories like wrist watches, bangles, stud earrings, hats etc. serves as unique interesting elements which could give your toddler's dress an extra touch guaranteeing ultimate complete fashion look!
Dressing Your Toddler in the Suit
Dressing your toddler in the suit is an important element of creating a sharp look for them. There are a few things to consider when shopping for a suit or tuxedo for a toddler.
When it comes to formalwear, fit is always king and you'll want to make sure that any clothing you buy fits perfectly with room to grow into. To achieve this, look for suits with adjustable waistbands, padding on the shoulders and jackets cut at the knee or below.
When deciding on colors, stick with classic options like navy blue and black which will be appropriate for all formal occasions. You will also want to choose fabrics that are easy to care for such as wool and linen blends which resist wrinkles and offer breathability so your toddler won't overheat in more formal events.
Finally, choose accessories that coordinate with the suit such as ties, bow ties, suspenders, vests or pocket squares in complementary colors or muted patterns like checks or stripes that don't overpower the outfit. With these tips in mind, you and your toddler can confidently take center stage dressed in the elegant suit he is sure to love!
Step-by-step instructions for dressing a toddler in a suit, including putting on the pants, shirt, jacket, and tie
Your toddler may be too young for a grown-up suit yet, but that doesn't mean you can't get him suited up! Like many of life's experiences with a toddler, patience and an easy-going approach will go a long way. Before you begin, make sure your toddler is comfortable and not in a rush or preoccupied with another activity. Also be sure you have all the necessary items to complete the outfit— pants, shirt, jacket and tie.
Pants: Start by having your child step into each pant leg one at a time then pull the pants up and secure with suspenders if applicable. If buttons are on the side of the pants snap them before fastening any belt or buckle closures. Make sure your tot isn't standing on the hem of their pant legs and not trip over them when walking around.
Shirt: Dressing your toddler in a shirt can be tricky but it's usually less complicated than putting on socks or shoes! Place both arms through the shirt sleeves then button all buttons from bottom to top going from left to right. For extra comfort adjust cuffs so that sleeve stops just above wrist bone closing any additional button if needed.
Jacket: Have your little one sit down when putting on their jacket for easier maneuvering! Arms should go through each sleeve then have them stand up straight so you can put the center back area over their shoulders and fasten all buttons (left to right). Lastly, adjust collar so that it sits comfortably around neck area.
Tie: Check beforehand if collar points lay flatly – this will make things much easier when tying a tie! Place tie around child's neck making sure it is centered before pulling top portion across chest. Then lay bottom portion under top section wrap one side over while making sure both sides are even & parallel prior to tying knot itself. For best results different knots offer different depths and sizes understanding & practicing knot basics will really help here. Last but not least fix any creases by lightly ironing necktie surface before styling your tot for his next big event!
Tips for ensuring that the suit is comfortable and fits properly
When the time comes to dress your toddler in a suit, it's important to make sure the suit fits properly for comfort and style. To ensure your toddler looks their best, follow these tips:
Before you shop for a suit, measure your child's height and chest size for a better fit. Most suits come in standard sizes such as 2T, 3T, 4T, etc., but knowing exactly how much length and width is needed will help you purchase the perfect size for them.

Look for toddler suits that are made of lightweight fabrics like cotton twill or linen-cotton blends that will stretch and breathe while they move around. Avoid fabrics like heavy wool blends which can be stiff and uncomfortable.

Purchase trousers with adjustable waistbands so your child can use them as they grow without having to buy a new complete outfit every season. Elastic waistbands offer flexibility as well as providing extra room in case of large meals at special occasions!

When trying on the suit, look out for armholes that are too tight; this is important because if they are too small it will not only be uncomfortable but will also restrict movement making playing or doing activities difficult or impossible! Be sure to get good sleeve length paired with flared sleeves ( rather than straight ones) to keep the shirt from riding up during playtime or other activities – it doesn't have to look crisp all the time after all!

Check that the trousers have enough length compared to the overall height of your toddler; this will help provide good coverage even when jumping or running around rather than exposing skin above socks and shoes!
By keeping these tips in mind it should make choosing the perfect suit easy – ensuring comfortable movement throughout all day events and ensuring your child looks their best!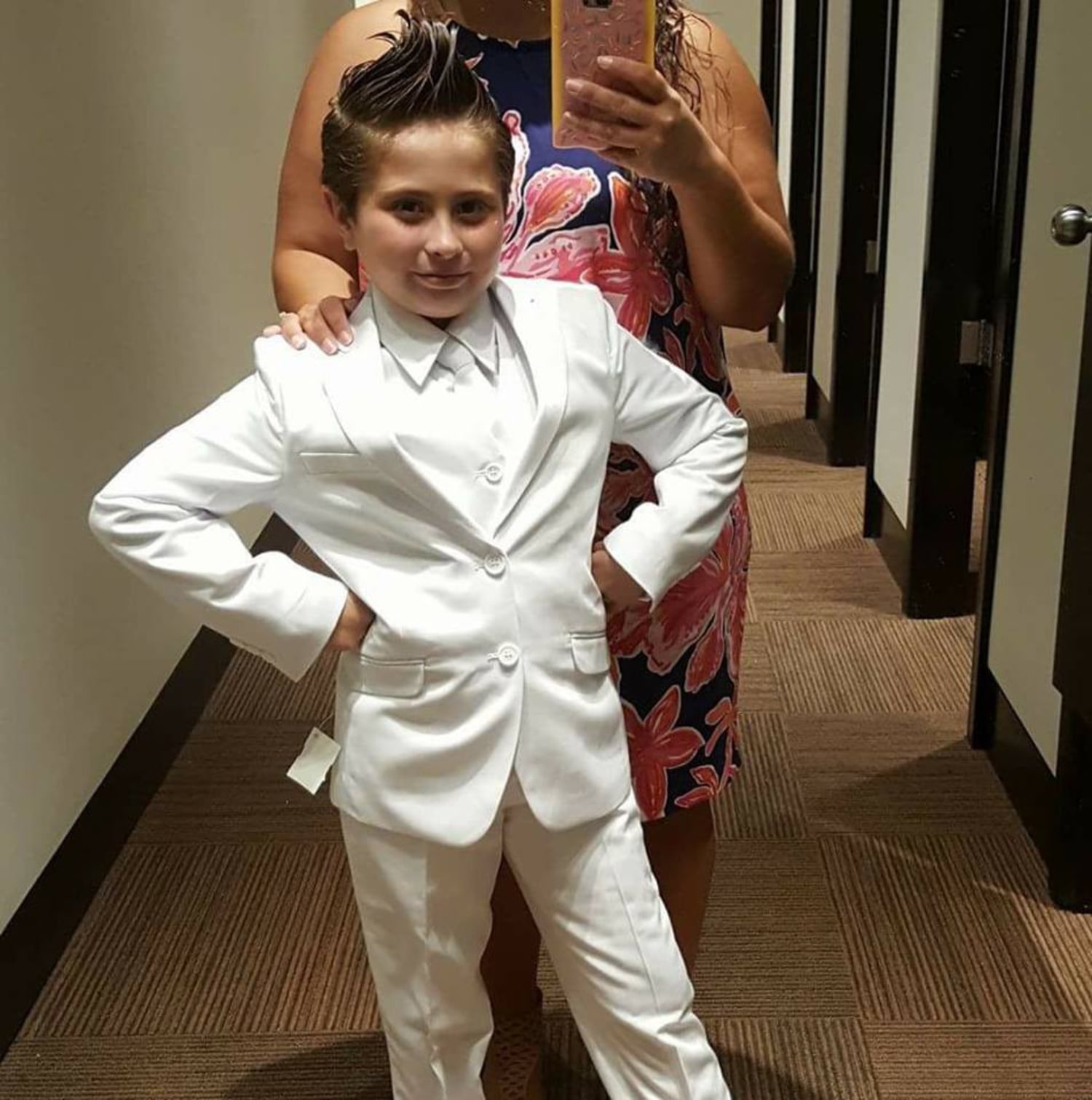 Conclusion
As your toddler continues to grow and develop, they'll need plenty of clothing items to help them look stylish and stay comfortable. Suits can be a great choice for special occasions, helping your toddler feel extra special.
Whether you're considering a high-end tailored suit or an affordable off-the-rack option, it's important to make sure that you have the right material, fit and style suited for both your toddler's age and the event.
By following these tips, you can ensure that your toddler looks their best when they step out in their suit.
FAQ'S
Why is clothing important for toddlers?
Clothing is important for toddlers because it protects them from the environment, helps regulate body temperature, and allows them to express themselves.
How many outfits should a toddler have?
A toddler should have enough outfits to last at least a week, which typically means around 7-10 outfits.
How can I help my toddler get dressed?
Encourage your toddler to participate in the dressing process, use visual aids like pictures or drawings to help them understand, and provide simple clothing options that they can easily put on themselves.
What are the characteristics of a well fitted children's wear?
A well-fitted children's wear should be comfortable, allow freedom of movement, fit properly in the shoulders and waist, and be appropriate for the child's age and development.
How does clothing affect a child's development?
Clothing can affect a child's development by providing opportunities for self-expression, encouraging independence, and helping to establish their identity.
Should toddlers choose their own clothes?
Allowing toddlers to choose their own clothes can help foster independence and self-expression, but parents should still provide guidance and ensure that the clothing is appropriate for the child's age and needs.
What kind of clothes are in style for kids?
Styles for kids can vary widely depending on current trends, but comfortable and practical clothing options are always in style.
What are the factors affecting selection of garments for toddlers?
Factors that can affect the selection of garments for toddlers include their age, size, needs, preferences, and the intended use of the clothing.
Why selecting a comfortable clothing for children is important?
Comfortable clothing is important for children because it allows them to move freely, play and explore their environment, and feel confident in their appearance.
What are three purposes of clothing?
The three purposes of clothing are to provide protection, facilitate social communication, and express personal identity.
See Also-