Are you aiming to provide your toddler with a fun, safe beach experience? Then you need to navigate the world of toddler beach tents. This complete guide will help you find the best one for your family, so that you and your little one can have an enjoyable time in the sun. You'll be prepared for any situation that may arise at the beach knowing that your toddler is secure and protected. Let's get started!
One of the most popular activities for toddlers is the beach. A great way to keep your toddler safe and entertained in the sand and sun is with a toddler beach tent. Beach tents are lightweight, portable cabanas that protect toddlers from harsh ultraviolet rays while they wade in the water or play on the sand. Provided with some basic information, you should be able to make an educated decision when it comes to choosing a tent for your toddler. This guide will assist you in making sure you get just what you need!
We'll begin by discussing why using a beach tent can be very beneficial for young children and their parents. We'll then move on to factors such as size, ease of setup, portability, UV protection and other important considerations before concluding with recommended models. Ready? Let's dive right in!
Explanation of toddler beach tents
Toddler beach tents, also known as infant sun shelters, are a great way to keep your little ones protected from the sun's powerful rays and provide them with their own private space to relax when spending time outside. They come in a variety of styles, sizes and prices. Before investing in one of these unique and useful products, it's important to understand what types of beach tents exist, how they work and what advantages they have over traditional umbrellas or beach chairs.
Infant sun shelters range from basic pop-up units perfect for napping or playing to larger cabanas designed for sleeping as well as playing. Basic toddler beach tents consist of only two poles that pop together at the top and sit up on the sand. These tents offer greater protection than umbrellas, which can be easily blown away in a strong breeze. Larger cabana structures have mesh windows with optional privacy screens, providing more shade and visibility while still allowing air flow. Some brands even feature attachment points that can secure them firmly into the ground or sand, preventative any unexpected gusts from taking it away if left unattended!
Many models come with UV protection built-in; this function reduces the amount of ultraviolet radiation reaching your child's sensitive skin.
Importance of having a toddler beach tent
Having a toddler beach tent for your little one is an essential part of a safe and fun beach outing. A toddler beach tent provides both shelter and entertainment for your kid while also providing some necessary sun protection. Keeping your little one away from the harsh UV rays of the sun is especially important during the summer months, when they are more likely to get sunburned. Additionally, having a toddler beach tent can help provide some extra privacy if you are visiting a crowded area while creating a contained environment where you can keep an eye on them.
Another benefit of having a toddler beach tent is that it provides plenty of ventilation, which will keep them cool in warm weather and make naptime much easier. If you're looking for extended use out at the beach, investing in a quality tent with flooring can add security to their small area and can help keep sand and other debris from getting into their space. And finally, children love the idea of having an area just for them that they can decorate with their favorite stuffed animals and toys. Overall, having a toddler beach tent is essential for any family looking to take advantage of all that our beaches have to offer!
Overview of the guide
This comprehensive guide offers an in-depth look at the different types of toddler beach tents and the features available. We provide information on the advantages of using beach tents, considerations when shopping and tips for care, setup and use.
In this guide, we review product features such as UV protection and fabric type, as well as important safety points like proper use. We will also take a closer look at special design elements that can make a toddler beach tent both functional and fun. Finally, we offer advice on selecting the best beach tent for your toddler's needs. With this information in hand, you can rest assured that your little one's next beach experience will be safe, enjoyable and above all else — full of fun!
Factors to Consider when Choosing a Toddler Beach Tent
Finding the right beach tent for your toddler can be a challenge! There are several factors to consider when selecting a tent, such as size, material and ease of setup.
Size: For the best fit, measure the height of your toddler while they're standing. Most toddler tents typically range from 18-24 inches tall, with widths ranging from 34-60 inches wide. Also take into account how many children will be inside the tent at once and whether or not you want your child to be able to stand up. A larger size may provide more comfort and room for play and activities.
Material: Beach tents are made out of two main types of materials, nylon and polyester. Nylon is often preferred for its lightweight design and durability but can stretch in rain or if overloaded with items such as toys, sand etc. Polyester is heavier but more durable to wear and tear, although it has less ability to withstand the sun's UV rays over long periods of time.
Ease of Setup: Quickly setting up a beach tent is ideal if you plan on bringing it with you on your travels! Look for those that have simple instructions that allow them to assemble easily under five minutes. If you plan on spending long beach days at one location then look for options that offer longer setup times in exchange for more features such as mesh windows or poles for added stability in windy conditions.
Size and Space
When it comes to choosing the right beach tent for your toddler, size and space are two critical considerations. Toddler beach tents come in a variety of sizes so it's important to pick one that fits the space where you plan to set up. If you're planning a trip to the beach or lake this summer, consider investing in a toddler-friendly tent that's spacious enough for activities like playing or snacking with friends.
Be sure to take into account area restrictions at your destination before purchasing. Some campsites may have maximum size requirements, while beaches may have open-air public spaces adjacent to the sand where you can pitch your tent without issue. If you plan on camping with another family, look for larger tents that offer enough room for everyone.
It's also important to find lightweight models so they can be easily transported from place-to-place by smaller children and adults alike. The best thing about using a beach tent is that toddlers can remain shaded from sunburn throughout most of their outing without feeling hot and stuffy in screened sections or closed compartments.
When selecting a toddler beach tent there are certain factors that must be taken into consideration such as:
Durability

Pole material

Floorless Design

Size & Weight Capacity
UV Protection
When shopping for a toddler beach tent, protection from the sun's rays should be at the top of your list, as UV exposure has been linked to skin cancer. Thankfully, most beach tents offer UPF (ultraviolet protection factor) ratings between 30 and 50 plus, meaning that they can block up to 98% of UV radiation.
It's important to check the UPF rating before making a purchase, as some tents only provide medium-level protection from the sun. Look for a tent constructed from special fabrics that have been treated with an ultraviolet inhibition agent for superior sun defense. Additionally, when extended or folded out, your child's beach tent should completely protect all sides of their body for full coverage against UV radiation.
Durability and Sturdiness
Durability and sturdiness are essential factors when buying a toddler beach tent. With toddlers running around, the tent should be able to withstand the normal wear and tear of usage. Check for material that is sturdy enough yet lightweight, so it does not add extra weight. It is also necessary to check whether the fabric used in the construction is waterproof, to avoid incidents of leaking or sagging caused by accidental spills or direct sunlight.
All parts such as poles, guy ropes, stakes and connectors should fit in properly and be strong enough to support the structure when it is in use. Before making a purchase, read customer reviews to gain an insight into how well various features work together during actual use.
Toddler Beach Tents
The ideal beach tent for toddlers will depend on various factors such as age, comfort level with the outdoors, weather conditions and more. To ensure that your little one is cool, happy and protected from the sun's harmful rays, here are a few key features to look for when making your purchase:
Size & Weight: One of the most important features to consider is size. Tents that are too large may be cumbersome for younger children to set up and take down. On the other hand, tents that are too small may not provide enough coverage and could make beach trips uncomfortable by retaining heat and humidity. In general, it's best to opt for a tent that's light enough to be easily transported without taking up much space in your bag or car.
Fabric & UV Protection: Most toddler beach tents are made using lightweight microfibers or polyester fabrics designed to provide maximum protection against UVA/UVB rays while also allowing air circulation and breathability. When shopping online, look for tents with an SPF rating of 50+ including a special UPF canopy that is designed to keep baby safe from sunburns while blocking up to 98% of harmful UV rays.
Ease of Setup & Take Down: Setting up camp should be an easy process so you can get back out into the sand quickly after a day of relaxation. Many toddler beach tents have simple "pop-up" designs with pre-attached poles and stakes which enable you to have your tent ready in seconds – perfect for active toddlers! For added convenience during take down time, many models offer an internal tension frame which collapses quickly into a smaller shape for easy storage in its travel bag between trips.
Be sure the model you choose includes easy setup instructions as well as convenient loops or handles on each side so it can be carried without any struggle.
Pop-up Tents
Pop-up tents are lightweight and easy to assemble, making them an excellent choice for toddler beach trips. They provide protection from the sun and wind, and come in a variety of styles and sizes. Most pop-up tents require minimal or no set-up, allowing you to quickly throw it on the ground before chasing after your toddler!
To get the most out of your tent, you should look for one that is easy to use. The best pop-up tents will have a clear setup instructions that can be easily followed, as well as functional mesh windows that allow air flow while blocking out sand and insects. Additionally, it should also come with stakes that securely anchor the tent into place regardless of surface conditions.
Overall, pop-up tents are a great option for those looking for an easily transportable toddler beach tent. Designed for quick installation and storage, they won't take any time at all away from your beach adventures with your little one!
Umbrella Tents
Umbrella tents are quite simple, but they are not to be underestimated! This type of tent provides surprisingly good coverage at a lower cost than any of the other types. They come in all sorts of fun colors and come with a durable fabric that is also waterproof. However, due to the design, umbrella tents could be more prone to tipping over if there's a stronger gust of wind. Also, because of their size and portability, some parents may find these tents slightly impractical for daily use.
Umbrella tents generally offer an easy setup in minutes and feature an adjustable pole for adjusting height when needed. Usually these poles support two side wings that form into an umbrella shape above the top part, providing ultimate sun protection from all angles. Because most are quite light and have no stakes or ground attachments as such, umbrella tents are great for taking to the beach as you can pick them up and go quickly with minimal effort!
Teepee Tents
Teepee style tents are a great option for kids, especially those aged 3-8 years. They come in various sizes and can be used both indoors and outdoors.
These tents have a unique shape and design that appeals to children of all ages. They are generally made of lightweight fabrics with poles that quickly twist together to create the distinctive cone shape.
Many parents enjoy how easy they are to assemble and clean up after use. Some models even come with mesh fronts to keep bugs away while allowing air circulation through the tent. Teepee tents can also provide a fun place for your toddler to read or play games in addition to offering some traditional sun protection at the beach.
Top Toddler Beach Tents on the Market
When it comes to shopping for a toddler beach tent, there's no shortage of options on the market. Whether you're looking for one with UV protection, an extra mesh window for ventilation, or something that is highly portable and travel-friendly, the right tent will make all the difference in your next beach day trip.
In this section, we will take a look at some of the top toddler beach tents on the market. We'll review their features and benefits as well as their drawbacks to help you find what best meets your needs.
iCorer Pop Up Tent: The iCorer Pop Up Tent is made with a polyester material that offers an excellent UV protection factor of 50+ UPF and blocks out 98% of UV rays. It also has two side mesh windows that can be opened or closed to give you more control over air flow within the tent. The folding structure makes it easy to carry and store when not in use.
yabee Baby Beach Tent: This waterproof polyester tent is perfect for keeping toddlers safe from the sun's harmful rays while spending time at the beach or backyard pool this summer. It features three mesh windows with zippers which offer plenty of ventilation without providing access from pesky bugs or other outdoor elements. Plus, it has an integrated storage pocket inside so you can keep all your essentials together!
Coleman Sun Shelter: This sun shelter by Coleman is made with UPF 50+ fabric to block out 98% of UVA and UVB rays as well as advanced cooling technology which allows air to flow freely within the shelter providing extra cooling power on hot days. Plus, it includes a secure front door flap so kids are unable to get out without adult assistance far improved safety control when playing outdoors!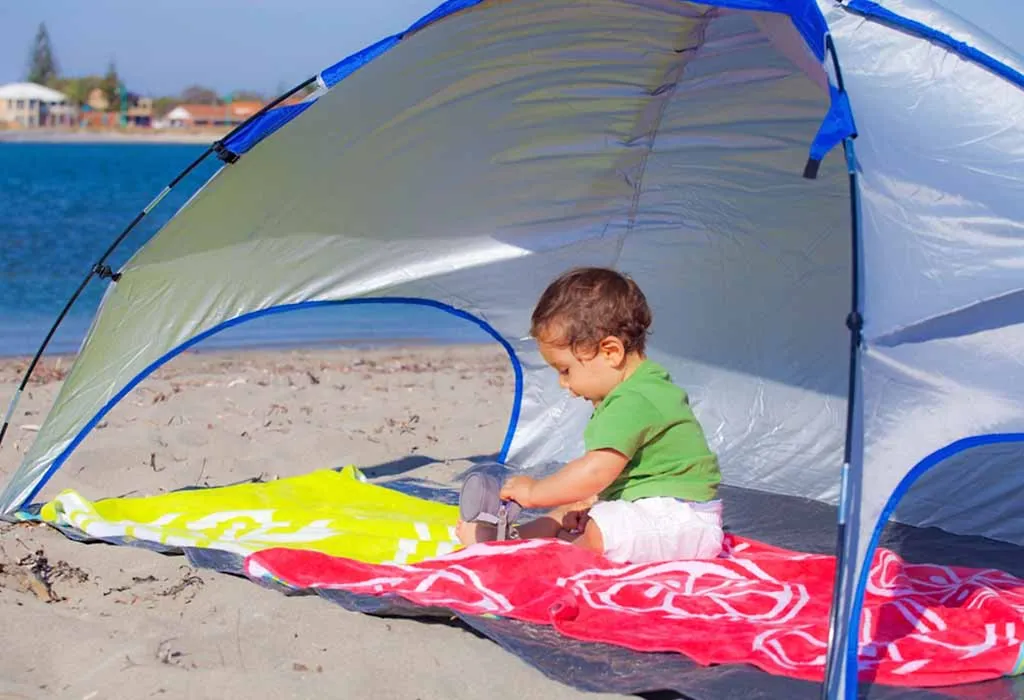 Conclusion
We hope this guide has helped you become more informed in purchasing a beach tent for your toddler. From lightweight tents designed to keep your littles safe from the sun, to incredibly detailed playhouses, there is something perfect for every budget and every family. Let us remind you of some key points to consider when purchasing a beach tent:
-Always make sure the tent you purchase is rated for sun protection. It's important that your little one stays safe from the harmful ultraviolet radiation of the sun when outdoors.
-Choose something that's going to be sturdy enough for in and out play. Toddlers love exploration and these tools are great for giving them autonomy.
-Think about ease of set up and what each tent offers in terms of extra features like ventilation, pockets, or games built into them!
-Keep an eye on weight capacities as well – kids grow fast!
Finally, always keep your little ones' ages in mind when making any purchase decisions related to playtime activities outdoors. We wish you all the best on your toddler beach tent adventures!
FAQ'S
What is the purpose of beach tent?
The purpose of a beach tent is to provide shade and shelter from the sun, wind, and sand while enjoying a day at the beach.
How do you secure a tent on the beach?
To secure a tent on the beach, you can use sandbags, stakes, or sand anchors to anchor the tent securely into the sand.
How do I entertain my toddler at the beach?
You can entertain your toddler at the beach by building sandcastles, playing with beach toys, going for a swim, or simply exploring the beach.
Are beach tents good for babies?
Yes, beach tents are good for babies as they provide a safe and comfortable space for them to rest and play while also protecting them from the sun and other elements.
What is the importance of tents?
The importance of tents lies in their ability to provide shelter and protection from the elements, which can be crucial in various outdoor activities and emergency situations.
What are the benefits of tents?
The benefits of tents include providing shelter, privacy, security, and comfort in various outdoor settings, as well as promoting a connection to nature and promoting outdoor activities.
Is a beach tent waterproof?
Most beach tents are designed to be water-resistant, but not necessarily fully waterproof, as they are primarily meant to provide shade and protection from the sun and wind.
Why are tents good for kids?
Tents are good for kids as they provide a fun and adventurous outdoor activity, promote imagination and creativity, and also provide a safe and comfortable space for them to play and rest.
What are the features of tent?
The features of a tent can include various sizes and shapes, materials, waterproofing, ventilation, windows, doors, pockets, and other accessories for comfort and convenience.
Do you need a beach tent?
Whether you need a beach tent depends on your preference and needs, but it can be a useful and practical investment for providing shade, shelter, and comfort while enjoying the beach.
See Also-