Are you concerned about keeping your toddler warm and dry in winter? You need the right snowsuit to keep them comfortable in cold weather conditions.
With this complete guide, you'll find the perfect snowsuit to provide your little one with all-day comfort.
Wintertime can be a lot of fun for toddlers, but it is important to make sure they are properly protected from the elements. Keeping your little one warm and dry is essential for allowing them to enjoy outdoor activities during the winter months.
A good quality snowsuit can help you accomplish this by insulating your toddler and blocking out wind, snow, and other moisture. But with so many different snowsuits on the market, it can be hard to know which one is right for your toddler.
Here we will discuss the features of a quality snowsuit, how to choose the right size and fit, what fabrics to look out for – as well as provide a checklist on things to look out for when shopping – in order ensure that your child stays warm and dry all winter long.
Importance of keeping toddlers warm and dry in winter
The winter season often brings cold temperatures that can be dangerous for health and safety reasons. This is especially true for young children, who may not be able to regulate their own body temperatures very effectively. It's therefore essential to make sure that toddlers are kept warm and dry in the winter by providing them with appropriate clothing, such as a snowsuit.
Snowsuits provide extra layers of insulation and are water-resistant or waterproof, making them perfect for playing in the snow while keeping children warm and dry. By familiarizing yourself with the various types of available snowsuits and deciding which is best suited for your child's needs, you can ensure they stay warm and safe all winter long.
Role of snowsuits in keeping toddlers warm and dry
When it comes to outdoor winter activities for toddlers, a snowsuit is essential for keeping them safe and comfortable in cold climates. A good snowsuit is designed with a variety of features specifically tailored to help keep toddlers warm and dry. These suits come in a variety of materials depending on the weather conditions and can be made from synthetic fibers such as nylon or polyester, or from natural fibers such as wool or cotton.
In choosing the best snowsuit for your toddler, you should consider the fabric's insulation-to-weight ratio—how well the material insulates without being too bulky—as well as its water-resistance, breathability, durability, ease of care and overall comfort. In addition to its base layer material, a good suit should feature a cluster of additional features designed to retain heat while repelling moisture and wind. These include:
Waterproof outer fabric – This provides superior protection against wet snow and other forms of precipitation.

Insulated lining – The lining helps trap warm air inside the suit while allowing it to breathe comfortably out.

Wind blocking technology – Look for suits with wind blocking layers at key points like the neck and wrists that will block chilly gusts from entering.

Fleece hood – A full hood helps cover more skin so that warmth won't escape from an exposed head area.

Other features such as adjustable wrist cuffs, leg openings for boots, reflective tape stripes for better visibility in low light conditions and removable mittens or booties can also enhance a jacket's storm-worthy performance even further.
Overview of the guide
This guide provides a comprehensive overview on the different types of snowsuits available for toddlers, their features and functions as well as tips on how to select the most appropriate snowsuit for your toddler. This guide aims to help you find the perfect snowsuit that keeps your toddler warm and dry while allowing them to explore with ease.
Snowsuits come in a wide range of styles, materials, sizes and designs, so it's important to know what will work best for your needs. This guide provides an overview of different types of snowsuits such as one-piece suits, two-piece suits, all-in-one suits and mitten sets plus options that feature insulation materials such as synthetic down or fleece. Additionally, this guide also offers tips on proper sizing and care instructions for your toddler's new snowsuit.
From performance features like waterproof protection and adjustable hoods to warmer options like insulated bibs or reinforced boots; this guide will provide all the information you need to make sure you choose the right snowsuit for your toddler that keeps them safe, warm and dry in winter weather conditions.
Choosing the Right Snowsuit for Your Toddler
When deciding on a snowsuit for your toddler, there are several factors to consider. First, you will want to choose one that is the correct size. It shouldn't be too tight or too loose; if it is, your toddler won't gain the full protection of the clothing. You may want to purchase a size larger so that your child can grow into it, but this is only an option if mobility isn't compromised due to excess fabric when they move around.
Next, look at the materials used in the snowsuit. In most cases, you will find a combination of synthetic and natural fibers such as cotton and wool. Synthetic fibers are optimal for keeping your toddler dry since they both offer insulation and help move moisture away from him or her during playtime – in other words, they "wick away" moisture so that your child doesn't end up feeling damp or uncomfortable in colder temperatures outside. Additionally consider how insulated the suit is with foam and batting – some suits may have more insulation than others which might be more comfortable for wearing in chillier temperatures outside. Finally check what kind of waterproofing has been used on the garment with different type of water repellent coatings used on fabric such as DWR (Durable Water Repellent), GORE-TEX® laminates etc… which offer unmatched protection from wind and rain while keeping weight at minimum.
Finally before picking a particular model make sure you have read reviews to see how other customers have experienced it especially linked to ease of use (such as zipper access being easy enough to fit over toddler's head) along with its durability since little explorers can be rough on garments!
Understanding the different types of snowsuits
When looking for a snowsuit for your toddler, you may come across a wide range of styles and designs. Each type is best suited for different weather and activities, so it's important to make sure you understand the main types before selecting one. Below are four common types of snowsuits that can be differentiated by their fabric, insulation, and design features.
Softshell snowsuits: These suits are typically made of soft fabrics such as polyester or nylon with less insulation than other types of suits. The breathable fabric is advantageous in colder climates where the temperature remains relatively constant, still allowing some movement while keeping out the cold air. They typically feature water-resistant properties to keep the wetness at bay when kids play in the snow.

Insulated parkas: These snowsuits offer extra protection against winter weather conditions with thicker insulation options than softshells snowsuits, making them ideal for outdoor winter play or cold outdoor walks on brisk days. They are usually composed of polyester shells combined with warm quilted linings or down insulation to provide unparalleled warmth and comfort to your toddler during cold days.

Waterproof bib style snow kits: These suits feature long-sleeved tops that extend into waterproof bib-style trousers designed to keep water and snow off your little one's clothing when they are playing in the snow or walking in wet terrain like icy pathways or slushy roads. For extra protection, they often feature rain guards which can keep water from getting into their boots and gloves if they splash around too much while playing!
4 All-in-one skisuits: Similar to insulated jackets or parkas but designed specifically for skiing activities like alpine skiing or snowboarding, all-in-one ski suits will ensure optimal coverage and movement when your toddler is experiencing winter sports on colder days out on the slopes! Typically made from high performance fabrics such as Goretex for waterproof protection against wetness and Thinsulate brand insulation for added warmth even when wet – these all in one suit comes complete with hoods offering a full face mask option – great for improving visibility on windy days!
Factors to consider when choosing a snowsuit
Choosing the right snowsuit for your toddler is important. The garment should be sufficiently lightweight, but still provide good insulation and adequate waterproof protection. Additionally, it's important to check for other features such as wind and snow resistance, fit, comfort and breathability.
When shopping for a snowsuit, look for one made of a lightweight material that is both waterproof and moderately insular. A snowsuit should be lined on the inside and have an outer shell that has a water-resistant finish. It should also feature shoulder straps and underarm gussets to ensure a snug, comfortable fit while allowing sufficient freedom of movement. The overall length should cover the torso, provide leg coverage and leave enough room in the seat area so your toddler can move comfortably inside it.
It's also important to choose a snowsuit with all weather features such as zippered cuffs and collars to prevent snow from entering the interior when playing outdoors or hiking in heavily snowed areas. Look for adjustable ankle cuffs with fasteners that can be opened wide enough to slip over your child's boots or closed tightly when necessary. Other features like pockets, chin guards or elastic cuffs can keep out wind and moisture while maintaining warmth on colder days outside.
Dressing Your Toddler in a Snowsuit
Once you find the perfect toddler snowsuit, the next step is to dress your toddler in it. While fitting a toddler into a snowsuit can be tricky, with a few techniques and some patience, you can ensure that your little one is warm and comfortable while they enjoy winter activities. Here are some tips to ensure your toddler's comfort when selecting and donning a snowsuit.
Start by selecting an appropriately sized snowsuit for your toddler. Ensure that if possible you can move two fingers between their body and the garment comfortably – this ensures that they have enough space to move around without feeling too tight or restricted. Consider also how easy it will be to get them dressed or undressed in the event that they need assistance with either activity.
Next, try on the garment before heading out in cold weather to check for any additional layers of clothing underneath it – such as thermal leggings, tops and thin gloves for extra protection from heat loss due to the weather outside. For colder temperatures, consider investing in kids' snow pants and using them under their snowsuits when necessary – however, make sure not to buy pants that are too baggy! Also make sure all areas of exposed skin are covered by re-adjusting any gaps or exposed areas; if necessary switch up sizes before purchasing a snowsuit so you end up with one that fits your child properly. Lastly, look for colors or patterns that stand out easily against the snowy background so you don't lose sight of your adventurous little one!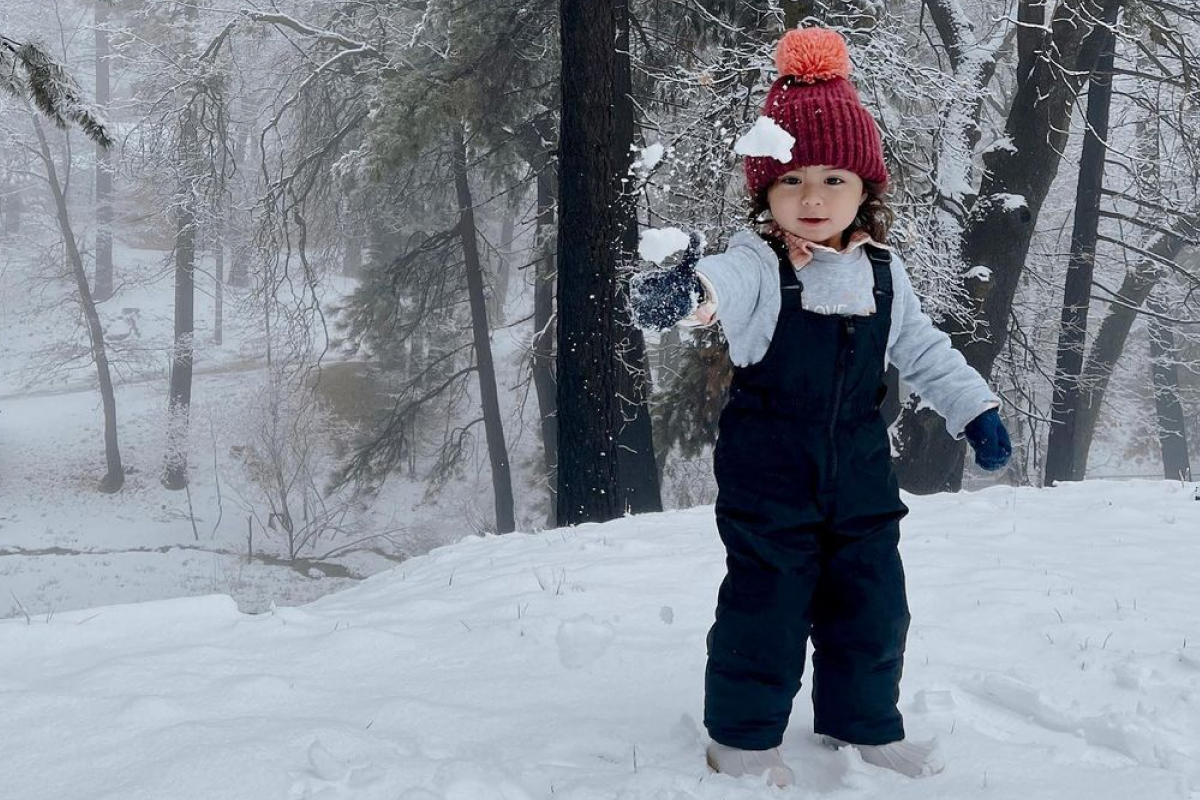 Layering basics
Layering your toddler in the right clothes is essential for outdoor activities in cold weather. By layering, you can adjust for changing temperatures and conditions without having to buy extra items. Layering also helps maintain a consistent body temperature in spite of changing environments. The key to layering is understanding the different and proper types of clothing necessary for cold climates and winter conditions.
When dressing your toddler, begin with a lightweight base layer made from wicking fabric like silk or Merino wool, which helps whisk away moisture from the skin. Good examples of this type of garment are long sleeve t-shirts and leggings, as well as thin thermal underwear sets. Add a mid-layer on top such as a vest or fleece jacket for extra insulation when needed. The outer layer should be water-resistant or waterproof, depending on the weather conditions you'll be facing (note: all snow suits have a waterproof outer layer). Overlapping layers create an insulating system that traps air between them providing optimal warmth and comfort in cold environments.
No matter what type of clothing is used, make sure that it fits properly – snugly enough to keep warmth in but not so tight that they cannot move freely – while allowing little bodies room to grow!
How to put on a snowsuit
Putting on a snowsuit for a toddler can be a challenge, but with just a few tips, you will be well on your way. It is important to remember to dress your toddler in layers as it will keep him warm. Make sure the onesie is not too big on them, as this will make movement uncomfortable for them and make it difficult when trying to put the snowsuit over their clothes.
Here are the steps:
Put mittens and hat on your toddler's hands before putting of their arms into the sleeves of the snowsuit. This helps keep their hands warm even if they happen to pull out of one of the sleeves while playing in the snow.

Open up all zippers, snaps or any other buttons that need opening before starting to put the suit on them

Put both legs into each pant leg and then pull up over your toddler's body until you reach their armpits – depending on the suit, you may need help from someone else here!

Next carefully put both arms through each sleeve until the wrists and then fasten any zippers or snaps tightly

Add extra warmth around their neck with either an extra scarf, hat or turtleneck shirt that zips up – this can usually be done while they are already wearing their snowsuit however some toddlers may find this uncomfortable so it is best done beforehand if possible!

Ensure nothing is poking them underneath by fastening all Velcro straps firmly – you may need help holding onto your little one during this part as otherwise they may start wiggling away!

Finally add a pair of boots along with cozy socks for added warmth and make sure laces or straps are tightened securely – don't forget about other accessories such as mittens, scarves, hats etc if necessary!
Caring for Your Toddler's Snowsuit
Caring for your toddler's snowsuit the correct way is essential in ensuring that it lasts through multiple winters. Usually, a quick hand-wash in cold water after regular use will do the trick. But, for tougher dirt and stains, you might need to bring it to a professional cleaner.
Once you've cleaned the suit, take the time to re-waterproof it using a specific product designed for this purpose. To help it last as long as possible, hang your toddler's snowsuit up when storing it away for warmer months, as folding or rolling into a small ball can cause fabric damage over time.
Additionally, checking all components that make up your toddler's snowsuit is important, such as ensuring all zippers are functioning properly and no buttons are missing prior to each use. Furthermore, if any repairs need to be done on the snowsuit, take them to a local tailor instead of attempting them yourself — doing so could cause further damage or not manage to secure loose threads and fabric tears correctly.
Cleaning and maintenance
It is important to absolutely keep in mind that the way that you take care of your child's snowsuit is vital to its longevity. After every outing, it is important to remove dirt, mud, and snow by gently brushing off clumps where necessary.
In addition, should your toddler get into any staining substances such as juice or food, it is important to try and clean this substance off the garment immediately with cold water. Furthermore, it may often be the case that your toddler has been sitting in a snowball for an extended period of time which would require an extra strong wash with warm water.
To make sure that a snowsuit's fibre remains durable and retains its waterproofness for longer, be sure to also hang dry the garment after cleaning it instead of drying it out in the dryer.
Storage
While there's no question that keeping your toddler warm and dry during the winter months is important, it's also essential to know how to properly store and care for their snowsuit. For the most part, proper care depends on the material and construction. Generally speaking, most suits are machine washable and can be tumble dried, but you should always check the label before laundering. To extend its lifespan, a few simple storage tips can ensure your toddler's suit is ready for next season.
Store Suits Dry: If you plan to save the suit for next season, hang it in a cool dry place away from sunlight or other heat sources. Avoid storing suits in damp rooms such as basements or garages ? moisture can cause mildew or discoloration.
Refold Garments: This is especially important if your snowsuits are packed away in storage bags or bins -oddly folded garments can become misshapen over time. Make sure to neatly fold each piece separately so that they keep their shape when removed from storage later on.
Keep Insects Out: Storing your toddler's snowsuit with cedar chips or cedar blocks may help deter moth eggs from hatching and ruining fabric fibers; otherwise inspect suits regularly for signs of pest infestation including holes and shedding threads.
Pack Suit Away Fluffly: If space allows for it try to put inside of a large plastic container with lids that snap shut, which will help keep out dust and insects while also airing out any dampness inside.
Conclusion
When shopping for a snowsuit for your toddler, you want to make sure that it is structurally sound and offers the best protection and insulation. Quality matters when it comes to staying warm, so look for a snowsuit that is well-constructed, offers plenty of wriggle room, and is waterproof.
Although they can often seem expensive, a good-quality snowsuit should pay dividends in the warmth and comfort it provides your child – not to mention peace of mind. With that being said, don't be afraid to splurge if you feel like you are getting good value for money; just remember to check the manufacturer's return policy before making the purchase.
Now that you have gone over the basics of snowsuits for toddlers, feel free to treat your little one (or yourself) to one of these cozy winter essentials!
FAQ'S
When should a toddler wear a snowsuit?
A toddler should wear a snowsuit when playing outside in cold and snowy weather.
Does a 2 year old need a snowsuit?
Yes, a 2-year-old should wear a snowsuit when playing outside in cold and snowy weather.
What is the best snowsuit for toddlers?
The best snowsuit for toddlers should be waterproof, breathable, warm, and comfortable, and fit well.
How do I keep my toddler warm in the winter?
Layering clothing, providing warm and waterproof outerwear, and covering exposed skin can help keep a toddler warm in the winter.
Can a toddler sleep in a snowsuit?
It's not recommended for a toddler to sleep in a snowsuit, as it can be uncomfortable and increase the risk of overheating.
Do you wear clothes under a snowsuit?
Yes, it's recommended to layer clothing underneath a snowsuit to provide additional warmth and protection.
Can babies overheat in a snowsuit?
Yes, babies can overheat in a snowsuit, so it's important to monitor their body temperature and remove layers as needed.
How should I dress my toddler for cold winter?
Dress a toddler in layers, including a warm hat, gloves or mittens, a waterproof and insulated coat or snowsuit, warm socks, and insulated boots.
How do I choose a toddler winter jacket?
Choose a winter jacket that is waterproof, windproof, and insulated, with a comfortable fit and suitable weight for your toddler's needs.
What layers should a toddler wear in winter?
Layer a toddler's clothing with a moisture-wicking base layer, an insulating mid-layer, and a waterproof and insulated outer layer, along with warm accessories like hats, gloves, and boots.
See Also-