Are you struggling to find the perfect swimsuit for your toddler? Don't worry, you're not alone! Choosing the right type of swimsuit for your toddler can feel overwhelming—but it doesn't have to be.
In this article, you'll discover how to make this daunting task much easier. We'll provide a complete guide to choosing the perfect swimsuit for your little one so they can enjoy a safe and happy day in the water!
When selecting a swimsuit for your toddler, it's important to choose the right type for their comfort and safety. Not all swimsuits are the same and there are plenty of factors to consider such as fit, quality and material. To ensure you pick the best option for your toddler, use this guide as a reference. It includes everything you need to know about finding the perfect swimming suit for your little one.
The discussion begins with an overview of why it's important to choose the right kind of swimsuit for toddlers. Then, it offers essential tips on how to measure your toddler correctly so that you can choose the right size swimsuit. Information is also included about how to select a fabric that matches perfectly with their skin type and ensures they won't get too cold or hot while swimming. Finally, product recommendations at different price points are shared so that you can find an appropriate swimsuit without breaking the bank!
Importance of choosing the right type of swimsuit for toddlers
Choosing the right type of swimsuit for your toddler is a critical step in safely enjoying time spent around water. While it may seem like an overwhelming task, considering all the available styles, brands and colors of swimwear, it's important to research which type of suit works best for your child. In addition to providing protection against waterborne illnesses, the ideal swimsuit should provide excellent coverage and comfort while allow your toddler's body to function and move naturally in the water.
When selecting a swimsuit for toddlers, it's important to consider its purpose. Swimsuits designed as protective fabrics such as rash-guard tops provide extra protection from ultraviolet rays while wetsuits allow toddlers to stay warmer in cold waters. Look for a full-body suit with long sleeves and pants or shorts that fit snugly around your toddler's body without being restrictive or uncomfortable. Some suits are more resistant to tears and abrasion than others so make sure you are mindful of this when purchasing a particular style of swimsuit for your little one.
It's also essential that you pay attention to sizing when shopping for swimwear – you want the garment to snugly fit without limiting movement or exposing too much skin (consider whether it will ride up when they move). You may want to take additional measurements such as waist circumference if you decide on two-piece suits instead of one-pieces since this size factor can play an important role in ensuring safety and comfortability for young swimmers.
Toddler swimsuits come in a variety shapes and sizes so make sure you use measurements instead of age advice when determining what size is best for your child – some brands tend utilize different sizing schemes from one another making this an even more important point! It is also beneficial to keep pool temperature regulation in mind; some fabric types can maintain warmth even if submerged but other materials may not perform so well in those scenarios – synthetic blends tend towards good pool performance without compromising comfort whilst heavier fabric options conserve heat better but can limit mobility underwater at times.
Brief overview of the guide
Choosing the right type of swimwear for your toddler can be a daunting task. In this complete guide, we will take you through the various types of swimsuits available and help you find the perfect one for your toddler's swimming needs.
We will also discuss how to choose the best fit and material, as well as considerations when shopping online or in stores. By the end of this guide, you will be well-prepared to make an informed purchase decision when buying swimwear for your child.
Considerations When Choosing a Swimsuit for Toddlers
Before you choose a swimsuit for your toddler, there are several things to consider. First and foremost, safety should be at the top of your list. Look for fabrics that have been treated with a UV protectant or chemical free dyes to minimize exposure to chemicals and the sun's harmful rays. Be sure that your toddler's swimsuit has elastic around the leg openings and waist to prevent it from sliding down in the water, thus exposing him or her to potential hazards. Additionally, look for swimsuits that have double-lining or extra padding on chest panels for added protection from the sun's rays.
Of course, comfort is also important when selecting a swimsuit for your toddler. Make sure the material is lightweight and breathable so it does not interfere with their swimming movements and skin becomes too sweaty. Also be mindful of whether or not they will need a rash guard; some swimsuits come with them built in while others do not provide any extra protection against chafing and UV rays.
Finally, consider style when choosing a swimsuit for your tot; while they probably can't express what type of design they prefer yet, there are plenty of options available that both mommy and baby would love! Look for bright colors and patterns as well as fun accents such as flowers, sea animals, characters etc., depending on their unique personal style preference.
Age and size of the toddler
The age and size of your toddler are important factors when choosing the right type of swimsuit. Choose a swimsuit that is appropriate for the age and stage of development of your toddler. Swimsuits that are too small may cause discomfort and inhibit play, while swimsuits that are too big can be loose and can have a higher risk of coming off during activities in water.
Generally, it is recommended to choose a size up from the normal clothes size that your toddler wears at home. It is also important to check the sizing chart on swimsuit labels as sizes can vary between brands/styles. Additionally, take into consideration if you want an adjustable waistband or straps for a better fit on different body shapes.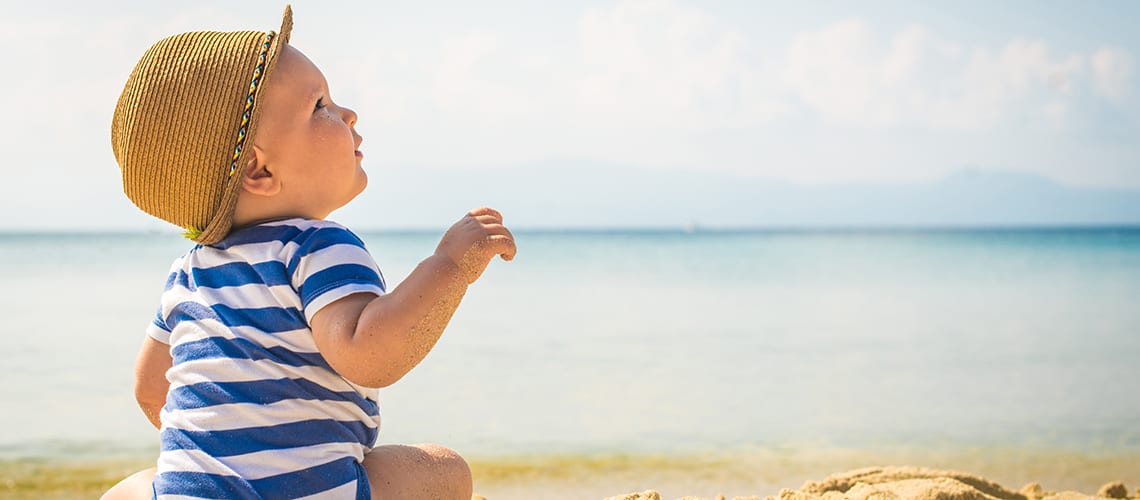 Type of water activity
The type of water activity your toddler is engaging in will determine the type of swimsuit that is best suited for them. Certain types of swimwear are designed to provide different levels of protection and comfort depending on the type of activity. Here is a brief overview of types of water activities and how to choose the right swimsuit for them.
Swimming Lessons When it comes to swimming lessons, you'll want a suit that provides greater flexibility for younger swimmers as they learn basic swimming skills. Rash guards or tankinis are great choices as they are designed with extra flexibility in mind. These suits also protect against Sun's ultraviolet (UV) rays more effectively than most other types of swimwear.
Splash Pools and Waterparks If your toddler loves splashing around at the pool or waterpark, a two-piece suit or trunks are ideal choices because they can stay on securely while providing unrestricted movement at the same time. You may also want to consider UV shirts or pants that provide extra protection from the Sun's harmful rays while still allowing your little one to have fun in the pool or ocean.
Beach Trips When selecting beachwear for toddlers, be sure to select items made from quick-drying materials such as nylon and lycra so your child can be comfortable during those long beach days. Swimsuits with UPF sun protection ratings offer additional protection from ultraviolet (UV) rays and allow your child to play on the beach without worry about excessive sun exposure.
Sun protection
When shopping for a swimsuit for your toddler, sun protection should be one of your top priorities. The sun's UV rays can cause serious skin damage and make children more prone to develop skin issues such as sunburns, rashes, and other conditions. To keep your toddler safe from the sun's rays, you will want to look for swimsuits with UPF (Ultraviolet Protection Factor) of at least 50. This means that the fabric blocks 97.5% of the UV rays from reaching your child's body. Look for clothing with flat seams that are tighter to the body for better protection against UV.
Many toddler swimwear items now come with built-in ultraviolet protection, so look for labels like 'UV protected' or 'UPF50+' when you go shopping. Other items such as hats and rash guards should also have a UPF rating in order to offer efficient protection against ultraviolet radiation. Additionally, encourage your toddler to apply sunscreen regularly before and after swimming and playing outdoors in order to ensure complete protection from the harmful rays of the sun!
Tips for Trying on and Buying Swimsuits for Toddlers
Once you've selected the perfect swimsuit for your toddler, you can start the process of trying and buying it. Here are some tips to help make the whole experience go smoothly:
Find a store that specializes in children's clothing. This will ensure that sizes, styles and colors are designed to fit a child's body shape and age range.

Allow your child to participate in the selection process as much as possible. They may feel more comfortable in different styles or colors than you do, and allowing them to choose what they want will help with the fitting process.

Before going shopping, measure your toddler from neck to shoulders, waist circumference and knee-to-ankle. Knowing these measurements ahead of time will help when selecting the right size swimsuit for your toddler and fitting it correctly in the store.

It's always a good idea to try on swimsuits before buying them, even if you decide to buy online later on. This way you can make sure it fits correctly around every area of their body – shoulders, chest and waistline – without any tightness or discomfort. Areas like crotch seams or straps should also be checked for a proper fit.

Make sure fabric elasticity is good; stretchy materials have just enough give so that they DON'T restrict movement but don't forget about chlorine resistance during pool trips! Also test zippers or buttons for sturdiness before purchase as these are real game changers when it comes to toddlers' fashion choices!
Proper sizing
When shopping for a swimsuit for your toddler, it is essential to select a suit with accurate measurements. Babies and toddlers are ever changing and growing; this makes it difficult to choose the correct size suit. The best way to measure your child is to take their current measurements (height and weight) into account when selecting a swimsuit. If possible, take a look at the fit of the swimsuit before making your purchase — after being made aware of how the swimsuit fits on your child, you can purchase one that provides maximum comfort and ease while they playing in or around the water.
Another key factor to consider when selecting a swimsuit is how it is constructed – look for UPF 50+ fabric that has been tested and approved by an independent laboratory; this will help protect their delicate skin from harmful UVA/UVB radiation during prolonged periods of time spent in water or on the beach. It's important to note that many cheaper materials do not offer adequate protection against sunburn or other damage from prolonged exposure to UV rays.
Trying on multiple styles
When it comes to trying on multiple styles, have some fun with it! Consider bringing a bathing cap and some water wings for taking poolside photos of your toddler in different styles.
Often, the opinion of the toddler can be the best deciding factor. If you are having difficulty picking out a style that you both like, try having your toddler participate in an informal runway show. This could involve laying out several suits on the bed and having your tot march in each suit while you snap pictures to see which suit they prefer. This can also help get an idea for how well the fit will work for a day at the beach or pool.
It's important that your child's swimsuit fit correctly—but not too tight. The better fitting suits allow more room for movement which often makes swimming more enjoyable for children of all ages.
Checking for comfort and mobility
When choosing a swimsuit for your toddler, comfort and mobility should be the top priority. Make sure the swimsuit fits snuggly yet comfortably on your toddler's body. Look for an adjustable waistband to allow for growth and movement. Ensure that there is enough room in the leg holes so your toddler can move freely, especially when playing and running around in their swimsuit. To avoid having to buy a larger size if this happens quickly, some swimsuits feature inseams with extra length to allow for growth.
Also make sure the fabric is stretchy, allowing more freedom of movement than other materials like nylon or lycra. Quick-drying fabrics will also be beneficial as they will help keep your toddler's body cool when they are out of the water or playing around outside of it. Opt for lightweight fabrics such as fine cotton and spandex blends designed to provide comfortable coverage with minimal absorption of moisture – this will ensure that delicate skin stays dry and protected from any potentially harmful UV rays – perfect for days spent outdoors at the beach or pool!
Conclusion
When it comes to buying a swimsuit for your toddler, there are some important considerations to keep in mind. Choose a suit that is made from a quality fabric that is designed to protect your toddler's skin while they are in the water. Also consider style, fit and comfort, as well as color and print choices.
To ensure your toddler has a fun and safe swimming experience, make sure the swimsuit you choose fits properly and provides adequate coverage. Be sure to try on different styles of suits in order to find the best fit for your little one. Finally, never leave your child unattended at any time while they are in or around water — even if they are wearing their swimsuit!
FAQ'S
What swimwear should a 2 year old wear?
A 2-year-old should wear swimwear that is comfortable, fits properly, and provides adequate sun protection.
What should toddler wear in swimming pool?
A toddler should wear a swimsuit, a swim diaper if necessary, and a rash guard for added sun protection.
What are the best swimsuit color choices for toddlers in water?
Bright colors and bold patterns are popular choices for toddler swimsuits in the water.
Should toddler wear diaper in pool?
Yes, toddlers who are not yet potty trained should wear a swim diaper in the pool.
Should I size up a toddler swimsuit?
It is recommended to size up a toddler swimsuit to ensure a comfortable fit and room for growth.
Should a baby wear diaper in a swimsuit?
Yes, babies who are not yet potty trained should wear a swim diaper underneath their swimsuit.
Should 2 year old wear swim diaper?
Yes, a 2-year-old who is not yet potty trained should wear a swim diaper in the pool.
How many swimsuits does a toddler need?
It is recommended to have at least two swimsuits for a toddler, so that one can be worn while the other is being washed or dried.
What color is most slimming for swimsuit?
Dark colors such as black, navy, and deep green are typically considered the most slimming for swimsuits.
What Colour is best for kids swimwear?
Bright and bold colors are popular choices for kids swimwear, as they are fun and easy to spot in the water.
See Also-